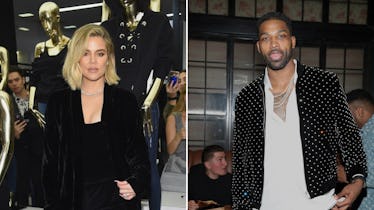 Tristan Thompson Is Reportedly House Hunting Without Khloé Kardashian & I'm Worried
Jamie McCarthy/Getty Images Entertainment/Getty Images Cassidy Sparrow/Getty Images Entertainment/Getty Images
Khloé Kardashian and Tristan Thompson's relationship has been pretty up and down, and I don't think anyone knows exactly where this couple stands right now. Just a couple of months after their daughter True Thompson was born, Tristan Thompson was reportedly spotted house hunting without Khloé Kardashian, and I have so many questions about what this could mean for their future as a couple.
According to a report from TMZ, Thompson was seen checking out a home in the Woodland Hills area of Los Angeles, and he was sans his "are they or aren't they?" girlfriend Kardashian. Cosmopolitan reports that the neighborhood is not far from where Kardashian currently lives, so could this mean that she and Thompson might be looking for a new place to move into? The home Thompson toured reportedly has seven bedrooms and eight bathrooms, as well as a basketball court. That house doesn't sound too shabby if I do say so myself, and it's definitely too big for just one person. Elite Daily reached out to a representative of Thompson for comment, but did not immediately hear back.
He and Kardashian may very well be looking to upgrade their current home — or it could mean that he's looking to be near (but not like, living with) her? The fact that Thompson was alone is definitely concerning. I am just overreacting here?
The last time I heard about their relationship, it was definitely still on. But according to report from Us Weekly in May, the couple were "fighting constantly" following reports that Thompson allegedly cheated on Kardashian while she was still pregnant with their daughter True — which definitely doesn't sound good. Elite Daily reached out to reps for both Thompson and Kardashian at the time but did not hear back. The source also told Us Weekly,
She doesn't know how she's going to rebuild trust in him. She knows her family and friends aren't supporting him or her right now.
Kardashian finally broke her silence about rumors that Thompson had cheated on her via social media in June. Kardashian responded to a Twitter user's post, where that user discussed their disappointment with her following Thompson's alleged cheating scandal. Kardashian responded to the post directly on June 25 with a tweet of her own where she said,
...you have no knowledge of what goes on in our household or the enormous rebuilding this takes to even coexist. I'm proud of my strength. I appreciate your opinion and I hope you hold that same opinion to everyone else who has stayed in situations.
Perhaps the "enormous rebuilding" that it's taking to get their relationship back on track proved too much for the couple, so much so that Thompson and Kardashian felt that the best way to go is to live apart for now. Considering that the two share a child, Kardashian's first and Thompson's second, it makes sense that Kardashian would want to do everything that she can to make the relationship work. And sometimes couples need to spend time apart in order to totally get back on the right track.
Even though the cheating rumors are definitely not doing this couple any favors, I really hope that Kardashian and Thompson are able to work everything out somehow. Maybe that means that they won't end up together and co-parent their child not as romantic partners, or maybe they'll find a way to make their relationship work. Whatever happens between them will be for the best, because if I know anything about Kardashian it's that she always has the best intention in everything that she does.
Until Kardashian or Thompson definitively addresses the current status of their relationship (and not through vague social media posts), it won't be known to the rest of the world exactly where they stand. But I'm sure that everyone can agree that the world just wants the absolute best for this family, and nothing less.