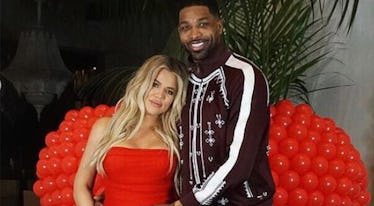 Khloé K & Tristan Thompson Are Reportedly "Fighting Constantly" Over Trust Issues & YIKES
Instagram/KhloeKardashian
Can we please talk about what is going on with Khloé Kardashian right now? For the last few months, the Keeping Up With The Kardashians star and her NBA basketball player boyfriend, Tristan Thompson, have been throwing us all for quite a loop. Amidst reports of Thompson's alleged cheating and the birth of their daughter, True, fans of the couple have been shaking their heads, unsure as to what's really going on behind closed doors. And now, there are reports that Khloe Kardashian & Tristan Thompson are "fighting constantly" and YIKES, this is not looking good, people. Elite Daily reached out to Kardashian's team for comment, but did not hear back by the time of publication.
A source close to the Kardashians revealed to Us Weekly that the new parents are encountering a lot of trouble in their relationship. "Khloé and Tristan are fighting constantly. All the time," the source said, adding, "She doesn't know how she's going to rebuild trust in him. She knows her family and friends aren't supporting him or her right now."
I mean, if this report is true, who could even blame her? Ever since it was reported on April 10 that Thompson, who was in New York City with his basketball teammates, was spotted on Saturday, April 7, seemingly kissing another woman, it's pretty much been a downhill situation. Elite Daily reached out to Kardashian and Thompson's teams regarding the report but did not hear back by the time of publication.
Then, add in the birth of their daughter while all of that drama is going down. One can say that Kardashian's life has probably been in a constant state of turmoil for weeks and weeks.
Most recently, though, it seems like Khloé has been sending subtle messages to her fans about how she's handling the entire situation. What she's been posting on her Instagram story suggests that she's more about healing from the entire ordeal than she is about fighting. On Friday, May 25, she shared,
I've learned in order for good things to come your way, you need to believe you deserve them.
If you look really closely at the white space towards the bottom of that post, you'll actually see the date "May 13, 2018", whatever that means (like, did she screenshot her own post and post it days later? IDK).
This post comes just days after Kardashian posted a quote to Instagram about love, which caused a lot of her fans' heads to turn. On Monday, May 21, the cryptic quote she shared garnered the attention of her followers and, needless to say, they were trying to connect the dots to figure out if it relates back to her relationship with Thompson. The quote read:
Your mind will always believe everything you tell it. Feed it faith. Feed it truth. Feed it with love.
OK, but what does that even mean?! Is anyone else just like, really, really confused?
It seems that KoKo is on some kind of path to enlightenment by sharing all of these quotes. Even on Thursday, May 24, she shared a quote about "trials and challenges," and honestly, at this point, I'm just trying my hardest to digest all of this information. She wrote, "Something you've been praying for is about to happen for you. You've had enough lessons. You've been patient long enough. You've remained strong through many trials and challenges. Nothing broke you. You're still here standing strong. Now is the time for you to start receiving."
Whatever is going on in Kardashian-Thompson household, I hope that Kardashian is on a path to happiness, which can really mean anything for her. While there are plenty of people who don't love the idea of her staying with Thompson, I feel like only she knows what's best for her and True.
Let's just wait and see how this one pans out.