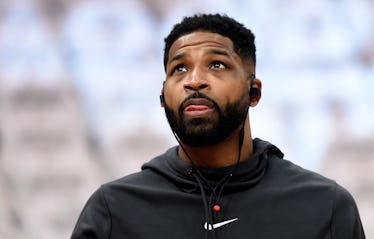 Tristan Thompson Is Reportedly Nervous About Reuniting With Khloé K's Family
Jason Miller/Getty Images Sport/Getty Images
It's happening, people. Khloé Kardashian and Tristan Thompson are about to move back to Los Angeles, California for the summer — just months after the baller's reported cheating scandal rocked the pop culture world. Ever since rumors sparked about Thompson reportedly cheating on Khloé throughout her pregnancy, he's fallen from the good graces of people all over — including the entire Kardashian Klan. So, considering their lingering feelings in the aftermath of the scandal, its not too surprising that Tristan Thompson is nervous about reuniting with Khloé K's family. Elite Daily reached out to Kardashian and Thompson's teams for comment on the cheating reports at the time, but did not hear back by the time of publication.
On June 1, a source told People that Khloé's family hasn't gotten over the reports that surfaced claiming Thompson cheated on the reality star just days before giving birth to their daughter, True. Their wariness reportedly has him a bit tense about moving to Kardashian's hometown. "Tristan is nervous about the family," the insider dished. "He knows they're mad at him and he's definitely going to work to get back on their good side."
Even so, the family is overall excited for Kardashian's return home, and is even planning something pretty special for the Good American designer. "Everyone is trying to focus on Khloé being happy, though. And everyone is happy that she will be back in L.A. soon," the source continued. "They will all have a big celebration together."
I think I know what's on your mind. And before you run to social media to give Kardashian your unsolicited advice on her relationship, keep in mind that she doesn't wanna hear it. Just days ago, on May 27, she clapped back at her critics on Twitter for sharing their unwarranted advice, urging people to focus on their own lives instead of other people's issues.
"People spend too much time finding other people to blame, too much energy finding excuses for not being what they are capable of being," Khloé wrote in one tweet. "People these days are focused so much on someone else's life instead of their own."
In the second tweet, she continued:
They love to give advice but are not living the advice that they are offering. Most of the ones giving advice are in no place to give anything at all. Focus on your own world. I'm sure there's cracks there that need your attention. We all got em
Yep. So there's that.
Given all that the couple has been through since the reported cheating scandal made headlines, it's only right for them to want to make amends, if you ask me — especially now that they have a child together.
Back in April, a source even told Entertainment Tonight, "They are both 100 percent committed to moving past this and focusing on the overwhelming joy they have in their life right now with their new daughter." The source continued, "Tristan knows he's got to step up now though and can't screw up."
Of course, it's gonna take time, but at least they're heading in the right direction, right? IDK about you, but I think that's definitely commendable given the heart-wrenching reports against Thompson that shocked fans in April.
Kardashian and Thompson's relationship came to a grinding halt on April 10 after both The Daily Mail and TMZ published videos of what appears to be Thompson kissing multiple women over the course of his relationship with Khloé. It was also especially heartbreaking because the reports hit the news soon before Kardashian gave birth to their daughter, True Thompson. Elite Daily reached out to Kardashian and Thompson's reps for comment on these cheating reports, but did not hear back by the time of publication.
Only time will tell what happens with their relationship, but with such a loving and forgiving family as the Kardashian's, maybe Thompson will be just fine.