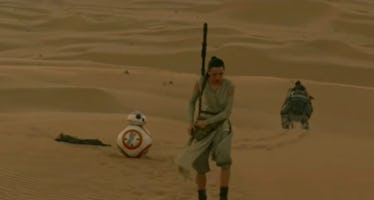 This New Tour Is Perfect For Star Wars Fans Everywhere, So May The Force Be With You
The prerequisites for a good trip: a little r&r, delicious meals, and of course, locations that pay homage to The Force Awakens and The Last Jedi. TripAdvisor's Star Wars tour is a no-brainer for anyone who loves the franchise. Trip, you book; vacation, you must.
This Irish getaway is certainly a bit different than the traveling you're accustomed to. The exclusive two-day tour takes visitors to the Ring of Kerry and Valentia Island, aka Star Wars filming locations. Not only will you explore this amazing area along the Atlantic Ocean, but you'll be treated like the super fan you are (and rightfully so). The TripAdvisor site reads,
After a bite to eat, you can take the opportunity to visit the Star Wars pre-production room that was used for filming, hear exclusive behind-the-scene stories and even become a Guinness Jedi Master just like Mark Hamill.
Your day will conclude with dinner in the quaint village of Portmagee, and you're going to want to get some rest for round two. The second day will include a visit to the Skellig Experience Centre and a jaw-dropping walk through Bray Head Tower. Start thinking of your best Star Wars pose now, because the trip of a lifetime will finish up with photos from Ring of Kerry. Beginning at $197 for the two-day experience, this event is certainly one you're going to want to consider. Heck with a description like this, it won't matter if you can't tell the difference between a stormtrooper and R2D2:
Let your eyes and imagination feast upon the wild rugged coastline, golden beaches, glistening lakes, [and] picturesque villages.
Take a look at Ireland's Skellig Michael.
Can you resist snapping a photo of Bray Head?
Even if the last Star Wars flick you watched was Episode 1 (don't look at me) you have to admit: These locations are pretty spectacular. Non-fans and die-hards will find some common ground while exploring these amazing Irish hotspots. What's not to love?
For those wanderers who are unfamiliar with the sci-fi mega-hit, you might want to consider having a movie night because these flicks will certainly inspire another trip or two. If you cannot make it to Ireland, TripAdvisor has curated a list of other locations with similar Stars Wars aesthetics that'll warm even Kylo Ren's cold heart.
You don't even need to leave the United States to feel like you're on the movie set. If you're a fan of Tatooine, check out these spots.
Valley of Fire in Overton, Nevada, makes for a perfect Star Wars-like trip complete with red sand and out-of-this-world rock formations. Plus, when you need a little breather, Vegas is only an hour away. Painted Desert in Petrified Forest National Park, Arizona, is another go-to spot that you'll love, especially thanks to its famous band of colors.
If Naboo is up your alley, write down these locations in your travel notebook.
Head down under for a glimpse at Pink Lake in Australia. Who wouldn't want to take a dip in this millennial pink goodness? Sign me up, baby. Le Sentier des Ocres in France has gorgeous rock formations you cannot possibly miss. Plus, is there anything not completely spectacular about France? I think not.
Did Hoth strike your fancy? You're in luck.
Skaftafell National Park in Iceland's Vatnajokull National Park is a must visit. Even better? WOW Air has $99 one-way flights to Iceland, so you can make a visit without hurting your wallet. The Empire really is striking back.
Who knew that a bunch of movies could be so inspirational when it comes to your wanderlust? Happy traveling, folks, and may the force be with you.
Check out the entire Gen Why series and other videos on Facebook and the Bustle app across Apple TV, Roku, and Amazon Fire TV.