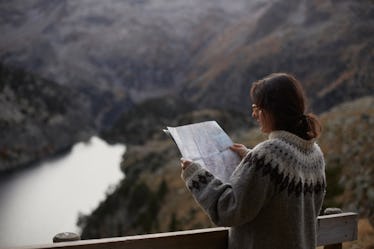 6 Reasons Why You Should Listen To Your Wanderlust & Travel On Thanksgiving
Thanksgiving is all about being grateful for the amazing family and friends we're lucky to have in our lives. Friendsgiving is also growing in popularity, which is an added element to this festive time of year. But what if you want to do something different this go-around, like stray from the traditional turkey dinner and make your own holiday fun, possibly in another state or country? Thanksgiving has gotten a bad rep for being a seriously stressful time to travel. But if you've caught the sightseeing bug and don't want to spend this holiday home sweet home, let your wanderlust take the wheel. There are many reasons why traveling on Thanksgiving is a good idea, and we're here for them.
I don't know about you, but wanderlust has struck me hard ever since I came back from living abroad for a few months. I'm constantly checking the prices and dates that I can either take time to head back to Europe, or travel somewhere I've never been before. Needless to say, if I could afford to do that this Thanksgiving, there are so many place across the globe I would love to explore. If you're in the same boat as me, whether you decide to hit the road with friends or family, the travel possibilities await. Here's why you should do it.