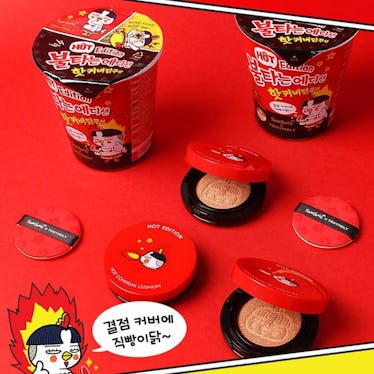 Spicy Ramen-Inspired Makeup Is Dropping & It's A Noodle Lover's Dream
Tonymoly
Earlier this year, Olive Garden teased a lineup of makeup inspired by and named after some of their most loved dishes. Although it didn't end up being real, the freakout that fans had over it was, so when I learned about the newly launched Tonymoly x Samyang ramen-inspired makeup collection I thought, "but of course!" We're living in an age when people go nuts for eyeshadows, lipsticks, glosses, blushes and the like that take their flavors and shades from famous food products—what a time to be alive.
I typically scoff at collaborations between fashion and beauty brands and branded food products (I personally just don't understand why one would choose a La Croix swimsuit over literally any other bikini) but I'll admit that this one has me excited. First off, I am a ramen fiend. I don't discriminate between my favorite bowl of Akamaru Modern ramen at Ippudo in New York and Cup Noodles (there's a time and place for everything) and would say I down noods once a week on average. More importantly, though, I am a huge fan of cult favorite k-beauty brand Tonymoly and they're the ones behind this genius collection. When I found that out I was sold as instantly as you can make microwave ramen.
Tonymoly's partner in crime for the collection is a Korean company called Samyang. Yes, they're the ones who make Samyang's Buldak Spicy Chicken Ramen (you can get it at most Korean markets), which is arguably one of the best instant variations out there, so you know that the collaboration is going to be legit. As reported by Allure, a Tonymoly official spoke to The Korean Herald of the collaboration and said, "Through this unusual collaboration with Spicy Buldak Chicken Ramen, we are excited to launch special and entertaining products." Special? And entertaining? Uh huh, read on.
First up is something called the Hot Coverdak Cushion, a cushion compact foundation. It looks pretty normal until you realize that the foundation refill it comes with looks like a little sauce packet. I guess foundation is kind of like a condiment for your face? Unfortunately, the compact only comes in two colors, Vanilla and Beige. That's not hot.
Next are two shades of Noodle Blusher. There's a fiery red hue called Bad Red and a pale pink called Carbolighter. Each comes in a cute little rippable package stamped with Samyang's iconic bowl cut-sporting chicken mascot.
Here's where it gets a little weird for me. Two shades of Lip Sauce Tint are also included in the collection and while the one called Spicy Red sounds sexy and cool and covetable, the one called Cheese Red....does not. (Cheese red?!!)
While mainly sold overseas in-stores in Korea, the collection can be shopped by US-based customers via Shoppee and on beautyboxkorea.com. The best part? You have the option to add a 70-gram Spicy Fried Noodle Buldak Bokkeummyun Cup to top your order off through the latter retailer. Now that is one deliciously good deal.