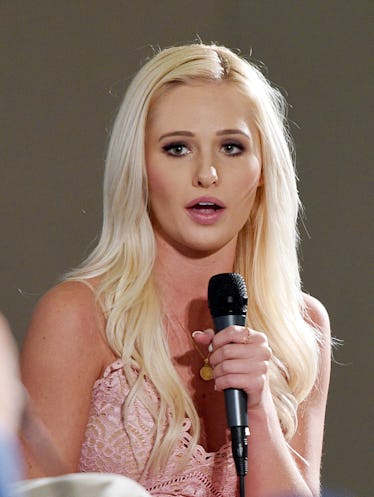 Tomi Lahren Called Migrants Getting Tear Gassed The "Highlight" Of Her Thanksgiving
Joshua Blanchard/Getty Images Entertainment/Getty Images
On Monday, Nov. 26, Tomi Lahren retweeted and responded to a post from actress Alyssa Milano about migrants getting tear gassed at the U.S.-Mexico border, and uh, maybe she shouldn't have. While many were horrified at the photos and videos that emerged from the incident, apparently Lahren had a different response. Tomi Lahren's response to migrants getting tear gassed is seriously messed up.
On Sunday, Nov. 25, U.S. border agents reportedly fired tear gas at hundreds of migrants attempting to cross over from Mexico and apply for asylum, including children and families. Elite Daily reached out to the Department of Homeland Security (DHS) for comment but did not hear back by the time of publication. Photos and videos of the moment went viral and, across the country, many were horrified at reports of children and families fleeing the stinging gas. Many pointed out the irony of the incident's timing, as it took place on a weekend when Americans celebrate a spirit of generosity and a cultural myth of welcome. But not Lahren. In her retweet, Lahren called the reports the "highlight of [her] Thanksgiving weekend." She wrote:
Bum-rushing the border is a CHOICE and has consequences. Watching the USA FINALLY defend our borders was the HIGHLIGHT of my Thanksgiving weekend.
Elite Daily reached out to representatives of Lahren for additional comment on her tweet, but did not immediately hear back.
Her tweet was immediately met with criticism from Twitter users who quickly noted that watching migrants get tear gassed was an odd highlight of a holiday meant to celebrate the spirit of giving.
Twitter user @dyllyp wrote: "The irony of celebrating the mistreatment of refugees on Thanksgiving, a holiday celebrating the benevolence of the indigenous people that saved the refugees who fled persecution in Europe."
Another user, @paulito_mclovin, responded: "Mine was the turkey followed closely by time with family. It's weird you take such delight in suffering. I'm thankful I don't know you."
People. Were. Not. Happy.
As responses to her tweet poured in, Lahren tweeted again, defending her position on the U.S. border crisis. She wrote:
Kids are getting caught up in the tear gas and these pearl-clutching liberals blame troops and border patrol? Um what about the parents rushing the border with their children??!! Not exactly parents of the year!
According to Vox, border patrol agents launched tear gas at a group of Central American migrants who tried to cross from Tijuana, Mexico to the U.S. this weekend. The migrants — mostly Honduran and Guatemalan individuals and families who are fleeing violence in their home countries — arrived at the border in a caravan and have been waiting for the opportunity to seek asylum for over a week. The Washington Post even noted that the use of tear gas is banned in warfare, let alone using it on a group of peaceful protestors. Elite Daily reached out to the Department of Homeland Security (DHS) for further comments on the incident this weekend, but did not hear back by the time of publication.
There are two ways to apply for asylum in the U.S., and both require the person seeking it to be physically present in the country. However, an asylum-seeker is not required to have entered the country legally or have an official immigration status in order to apply. According to the U.S. Citizenship and Immigration Services website:
To obtain asylum through the affirmative asylum process you must be physically present in the United States. You may apply for asylum status regardless of how you arrived in the United States or your current immigration status.
Based on this information, many people have noted that the migrants in the caravan have the right to a fair asylum process. In an opinion piece for Newsweek, UC Berkeley Jurisprudence & Social Policy PhD candidate Abigail Stepnitz wrote that not only do migrants have a right to seek asylum, but they have a "right not to be sent back to a country where they will face persecution — or even death."