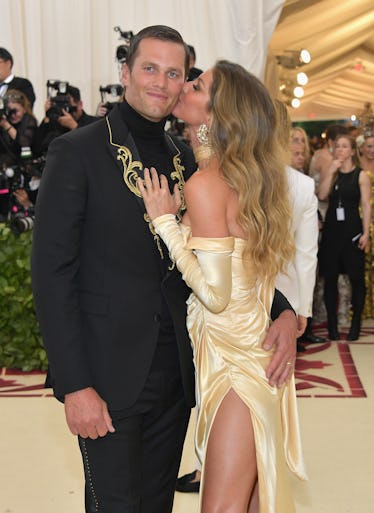 Tom Brady's Birthday Instagram Pic For Gisele Bündchen Will Make Your Jaw Drop
Neilson Barnard/Getty Images Entertainment/Getty Images
If you need proof that love still lives with the scores of heartbreaking celebrity splits this year (I mean, who doesn't?), just head on over to Tom Brady's Instagram. Honestly, I'll have whatever they're having, because these lovebirds look like they're still in the throes of newlywed bliss nine years after tying the knot. Honestly, Tom Brady's birthday Instagram for Gisele Bündchen is the pick-me-up I think all of us jaded romantics all need during these dark times, and I'm so here for it.
Is it just me, or does this golden couple seem to get even more smitten with each other as the years go by? Now, with three kids and two wedding ceremonies under their belt, Brady and Bündchen still act like they're in total honeymoon mode, and Tom Brady's steamy birthday messages to his wife are total proof.
On Friday, July 21, the NFL quarterback took to Instagram to pen some sweet thoughts in honor of the supermodel's 38th birthday. Honestly, it's relationship goals.
He wrote:
"Happy Birthday! What a great year it has been! We love you so much! Let me count the ways....❤️🎂😎."
While Brady's sentiments were enough to inspire a collective "Aww," the sexier-than-thou picture of the couple was what really did it for me. In the shot, the swimsuit-clad pair can be seen passionately making out against the backdrop of a beautiful beach, and I honestly would third wheel them so hard. Is it just me, or could they totally be on their honeymoon?
Things got even steamier over on Brady's Instagram Story, where he posted a sizzling snap of the Brazilian beauty flaunting her stuff in a black string bikini.
"It's your birthday," he captioned the shot, along with a huge heart emoji. Be still, my heart.
The pair haven't exactly made a secret of how smitten they are with each other, and they've definitely toed the line between #relationship goals and cringe, especially when it comes to their bedroom activities. Just a few weeks ago, the Patriots star shared a NSFW comment on a Barstool Sports Instagram video that totally shook the internet. On June 27, Brady said goodbye to patio season and hello to *ssEatinSzn with a TMI comment that you literally can't un-see, and eagle-eyed fans were left reeling. While I'm still trying to erase the thought of their, er, extracurricular activities from my brain, there's no denying that the couple is definitely very much in love with each other.
Meanwhile, if you take a look at Bündchen's Instagram, it looks like she's definitely living her best life at 38. Per ETOnline, the couple and their kids are reportedly celebrating the milestone in Costa Rica. Not a bad way to ring in a birthday.
One thing's for certain: Some of my favorite celebrity pairings might be calling it quits, but I can always count on this golden couple to restore my faith in love. Now, if I could only be a fly on the wall to hear Brady "count the ways" Gisele makes him happy. Seriously, could they be any more in love?