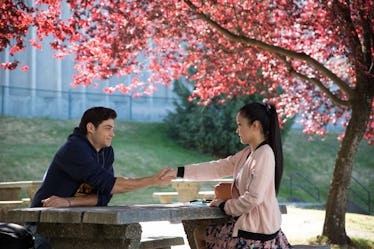 'To All The Boys I've Loved Before 2' Is Officially Happening, So Prepare For More Lovin'
Netflix
Netflix's romantic comedy boom doesn't look to be slowing down anytime soon. The genre revival that began this past spring with Set It Up and The Kissing Booth broke big when To All The Boys I've Loved Before took the summer by storm. Fans of the love story between Lara Jean Covey (Lana Condor) and Peter Kavinsky (Noah Centineo) have wondered if there would be a sequel come 2019. The news is good because Viacom has revealed To All The Boys I've Loved Before 2 is officially happening.
It seemed a near certainty the film would get a sequel come the new year, as Netflix starts ruthlessly canceling under-performers like Daredevil, leaving itself in need of new content. When The Hollywood Reporter announced a multi-picture deal had been reached between Netflix and Paramount Pictures (who produced the first To All The Boys) over the next few years, industry watchers took this as a sign more romantic comedies would be in the pipeline. But there was no confirmation either way on a direct sequel until this week, when during a conference with Paramount's company Viacom, CEO Bob Bakish said To All The Boys I've Loved Before 2 was happening. The studio just might need to tweak the title a bit to something "sexier."
The good news is Paramount has material to work with. To All The Boys I've Loved Before is an adaptation of a 2014 young adult romance series, written by American author Jenny Han. The sequel is called P.S. I Still Love You. There's also the third book as well, Love Always and Forever, Lara Jean. Someone should let Bakish know he needn't worry. His follow-up movies have sexier titles than To All The Boys I've Loved Before 2 already designated.
As to what happens in P.S. I Still Love You, it's not a spoiler to say another of Lara's crushes gets one of her letters, a long-time childhood friend John Ambrose McClaren. When John comes back into town, readers learn he and Lara weren't just childhood friends, he was also tight with Peter too back in the day. Fans can tell where this is going: love triangle!
This is the plot of the book anyway. There's no telling if Paramount and Netflix will stick with the original story or not going forward. But considering how much of a good thing the first film was, one would assume the plan is to not mess with success.
And make no mistake, To All The Boys I've Loved Before is a giant success story for Netflix. The streaming service notoriously refuses to ever reveal its viewer numbers, not for love or money. And yet, when it came t the first film's overnight success this past summer, Netflix disclosed the film was one of their most-watched original movies to date, not only for first-time watchers but repeat viewers, which in streaming is like saying one found a license to print gold coins.
To All The Boys I've Loved Before 2 will arrive sometime in 2019.