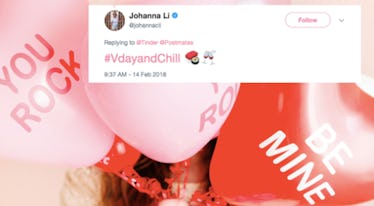 Tinder & Postmates Surprised People On Twitter With Valentine's Day Gifts & OMG
How are you celebrating Valentine's Day? How does this sound to you: a hot dude and awesome free stuff delivered to your door. Not bad, right? Tinder, Postmates, and Adam Levine's #VDayAndChill partnership gave exactly that combination to a handful of lucky people.
"I am teaming up with my friends at Tinder to surprise some lucky fans with special deliveries to make their Valentine's Day dreams come true," Levine announced in a press release today. "It's awesome to connect with Tinder users to make their Valentine's Day just a little sweeter."
His surprises did not disappoint. First up, he appeared at a couple's door with Maroon 5's lead guitarist James Valentine to deliver a surprise rendition of "She Will Be Loved" and two tickets to see the band in concert.
Next, Levine visited another guy's home to help him curate the perfect Tinder profile. Even though he's not a user himself (he's married to model Behati Prinsloo, who is currently pregnant with their second child), he still knew his stuff: He vetoed the dude's professional headshot for a more casual, spontaneous photo.
Finally, he swung by the home of two female roommates celebrating Galentine's Day to deliver a bucket of goodies. While toting Champagne, heart-shaped boxes of Reese's, pink plastic cameras, a DVD of The Notebook, the game Candy Land, and more, Levine shared his thoughts on the holiday:
Galentine's Day — I don't know what that is. I think it has something to do with girls hanging out and being friends on Valentine's Day when they don't necessarily have a partner to share it with. Which, that's cool. Dudes are lame. Galentine's Day it is.
Just saying, it totally sounds like he knows what Galentine's Day is. And he knows how to swag it out big time. Watch Levine deliver all the sweet surprises below:
"We love giving our users what they want, not just in the product, but IRL too," Rosette Pambakian, Head of Brand at Tinder, said in a press release. "We are having so much fun working with Adam to make Valentine's Day extra special for a few lucky people."
Even if you didn't happen to find the world-famous star of The Voice chilling on your front steps today (if that's the case, you're in good company, I swear), there are still other ways to reap sweet V-Day benefits from Tinder and Postmates.
Starting at 6 a.m. PST on Valentine's Day, Twitter users could tweet whatever their hearts desired to @Tinder and @Postmates, using the hashtag #VDayAndChill and a string of emojis. (Follow both handles, too.) So, want a drink? Tap that wine emoji. Need a kiss-proof matte lipstick for tonight's make-out sesh? Send a lipstick emoji. A bunch of lucky winners already had their V-Day emoji essentials delivered to them by Postmates.
"We know there is a lot of pressure to get the right thing on Valentine's Day," said Ben Trinh, Head of Entertainment and Influencer Marketing at Postmates, in a press release. "Postmates gets it. From roses to chocolates, a nice tie to a bottle of wine, Postmates will make your life easier so our customers can focus on their special someone. We are excited to team up with Tinder to make lucky people feel extra special on Valentine's Day."
Deliveries happened in both Los Angeles and New York City. (Winners in a select group of other cities received Postmates credit to their account.)
Trey Songz received a tent for his dog!
This person sent the emojis for sushi and wine, but wound up with something just a little different.
This person asked for balloons and roses and wound up looking like a Nicholas Sparks character.
If this doesn't warm your heart, I don't know what will. BRB, tweeting for something to wear tonight... 💃🏻
Check out the entire Gen Why series and other videos on Facebook and the Bustle app across Apple TV, Roku, and Amazon Fire TV.
Check out the "Best of Elite Daily" stream in the Bustle App for more stories just like this!