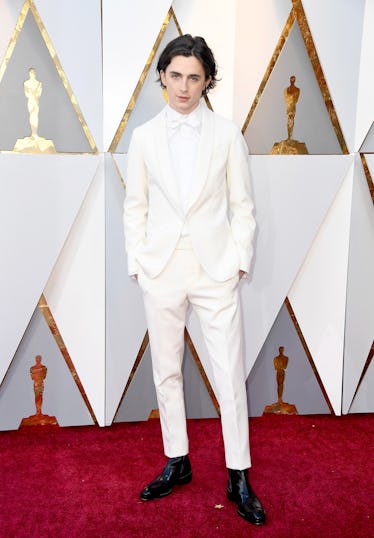 Timothee Chalamet's Oscars Look Is White Hot, So Prepare To Swoon
Frazer Harrison/Getty Images Entertainment/Getty Images
Timothée Chalamet's dreamy eyes and sexy hair have been taking Hollywood by storm. The actor is only 22 years old, but he's at the Oscars as a Lead Actor nominee. Win or lose the award, Timothée Chalamet's 2018 Oscars look deserves special recognition.
Chalamet is nominated for Best Actor for his role of Elio in Call Me By Your Name. Chalamet acted alongside Armie Hammer, who played the role of Elio's love interest, Oliver. In addition to Chalamet's Lead Actor nomination, Call Me By Your Name is nominated for Best Picture, Adapted Screenplay, and Original Song ("Mystery of Love" by Sufjan Stevens). Chalamet also has a part in Lady Bird, which is nominated for Best Picture as well as a slew of other awards.
Chalamet has been hitting the promo circuit and awards show season on behalf of Call Me By Your Name, and as articulate and charismatic as he is, Chalamet's hair and sleek suits are mostly what I'm looking at. The man has sleek style, luscious locks, and dreamboat eyes to boot. He manages to look like he just rolled out of bed and like he puts work into his look all the time, and I want him to teach me his ways. His Oscars style is no different, and I'll be staring at this picture until further notice.
Chalamet's all-white Berluti suit is what dreams are made of.
From the bow tie to the lapels, white hot has never been a more appropriate phrase. I love that he contrasted the angelic, monochromatic look with shiny patent leather boots.
Before the Academy Awards, Chalamet hit up some other A-list events.
British Academy Film Awards
At the British Academy Film Awards (the BAFTAs), Chalamet wore a soft velvet tuxedo and added a youthful spin to his look by foregoing a stuffy tie.
His hair looked to be sculpted by gods, and his hazel eyes stared me down to my core.
BAFTA Nominee Party
Chalamet went ever-so-slightly more casual at a pre-BAFTA party for the nominees, not that being more casual than wearing a tuxedo is hard to do. When you hear the words "shiny, striped suit" in a sentence together, it sounds awful, but Chalamet makes it work.
The Hollywood Reporter Nominees Night
A man in a green suit, on a green carpet, with a green backdrop, sounds awful right? Well, it's not. Chalamet's greenish eyes don't detract from the look either. The Hollywood Reporter Nominees Night is another pre-Oscar bash for each year's recognized actors and other nominated talents. Chalamet showed off a bit of his chameleon skills here.
Academy Awards Nominee Luncheon
OK, I'm sensing a pattern here: The guy likes his green.
London Film Critics' Circle Awards
And blue! Timothy likes his color suits. This one is also v shiny, but he pulls it off with those fancy combat boots. And the hair — I want to run my fingers through it, just one time. Is that too much to ask?
Screen Actors Guild Awards
Chalamet wore (almost) all back to the 2018 SAG Awards. That bright red tuxedo stripe is fire. But really, nothing can detract from his lush hair, and Twitter agrees.
Timothée Chalamet showed up on the 2018 Oscars red carpet with his signature luxurious coif, of course, and a fresh AF white suit. His gorgeous brunette locks were perfectly grounded with a shiny pair of black shoes. He's basically a walking, talking Oreo cookie in the best way.
It's worth mentioning that Timothée Chalamet actually appeared on the 2018 Oscars red carpet twice. Screenwriter James Ivory wore Chalamet's face on his shirt as an ode to the actor.
Even if Timothée Chalamet doesn't win tonight, he's already won the red carpet. How many actors can say that they themselves have been worn as couture on the red carpet? What an icon.