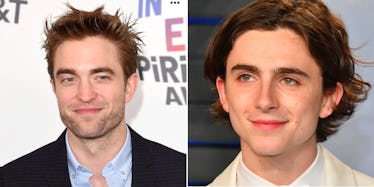 Timothy Chalemet & Robert Pattison Are Starring In A Shakespearean Movie & I'm Swooning
Dia Dipasupil/Getty Images Entertainment/Getty Images Jason Merritt/Getty Images Entertainment/Getty Images
Get ready to have a renewed appreciation for Shakespeare, because I've got at least two reasons to tune into Netflix's upcoming Henry V film. It was announced today that actors Timothee Chalamet and Robert Pattinson will star in The King for the streaming service, which is based on the The Bard's Henry the IV and V plays.
Chalamet will portray the future Henry V, or Hal, "who inherits the crown and must learn what it means to be a king, guided by his one true friend, Falstaff." Pattinson plays the French duke The Dauphin.
Lily Rose-Depp is also joining the esteemed cast as Hal's wife and daugher of the French king, Princess Catherine. Ben Medelsohn will play King Henry IV. Joel Edgerton is signed on as Falstaff and also serves as a co-writer on the project alongside David Michod. Michod will direct as well. He previously worked with Edgerton in Animal Kingdom and Pattinson in The Rover.
"It's a reimagining of Henry IV and Henry V, with some parts akin to Shakespeare and some more detailed through history and some parts our own imaginings, our own creative license. He'll direct and I'll be in it," Edgerton explained of the The King's concept when speaking to IndieWire back in 2016.
2017 was a breakout year for the 22-year-old Chalamet, so it's no surprise that 2018 is filling up with projects for the Academy Awared-nominated performer. You'll soon be able to see him play Steve Carrell's son in Amazon's adaptation of Nic Scheff's memoir Beautiful Boy, which chronicles a young man's struggle with meth addiction through the eyes of his father. He also appears in Woody Allen's A Rainy Day in New York and the coming-of-age drama Hot Summer Nights.
There's also the Call Me By Your Name sequel in the works, where Timothée will reprise his role as Elio. "If I paired the age of Elio in the film with the age of Timothée, in three years' time Timothee will be 25, as would Elio by the time the second story was set," director Luca Guadagnino has said of the follow-up's proposed timeline.
Robert Pattinson's career also took a interesting turn over the past year. The actor formerly known as Twilight's Edward Cullen earned major critical acclaim for his work in the indie crime drama Good Time, even nabbing an Indie Spirit Award nom for his performance. He was actually up against future King co-star Chalamet, who ended up winning for Call Me By Your Name. Pattinson is set to star in the David Eggers-directed thriller The Lighthouse opposite Willem Defoe. He'll also appear in the upcoming sci-fi adventure High Life.
"Movies are hard for me to get," Pattinson explained of moving on from his YA heartthrob past opening up on CBS Sunday Morning last year. "I'm just as much trying to convince people every single time. And it's not like I'm Leo [DiCaprio] or something ... The only thing that being famous really helps at is getting financing and if your movies make a lot of money. And, like, the movies I do are weird and they don't make a lot of money a lot of the time."
Hey, Rob might end up becoming his own version of Leo. DiCaprio famously did Shakespeare in the past and that definitely worked for him.
Even though Pattinson and Chalamet are at different stages in their respective careers, it appers they might be at a point where they can take on unqiue projects that aren't under the blockbuster umbrella.
Filming on The King will reportedly begin this week, but a release date isn't set until 2019. Start brushing up on your Shakespeare now.