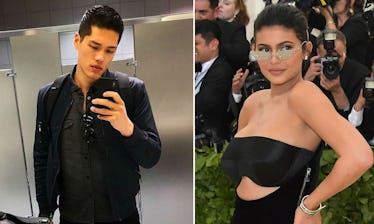 Kylie Jenner's Former Bodyguard Just Slammed Those Rumors Saying He's Stormi's Father
Instagram/ Tim Chung. Neilson Barnard /Getty Images Entertainment/Getty Images
I knew it would come. I just didn't know when. But now, at long last, there's an official denial in the house, people — and it's a good one! See, ever since Kylie Jenner first gave birth to daughter Stormi Webster, rumors have been running like mad that Travis Scott is not actually the baby daddy. It all started on social media, of course, when fans began to comment that Stormi looked more than a little like the lip kit queen's former bodyguard. And yeah, I saw the resemblance, too. But Tim Chung's response to reports he's Stormi's father is so epic that now I'm pretty much questioning everything I thought I knew.
The stunning specimen of a human took to Instagram over the weekend to shut the speculation down once and for all. "I am a very private person and would normally never answer to gossip and stories that are so ridiculous that they are laughable," Chung wrote. "Out of deep respect for Kylie, Travis, their daughter together and their families, I would like to set the record straight that my interactions with Kylie and her family have been limited in strictly a professional capacity only. There is no story here and I ask that the media no longer include me in any narrative that is incredibly disrespectful to their family."
Tell 'em, Tim! But, oh man, does that statement have Kris Jenner's name written all over it, or what? I mean, all that's missing is the word "Bible" at the end of the first paragraph. TBH, I don't really care if Mama Jenner was, in fact, the one behind it, although I do have some questions for her about font choice. Seriously, though, Kris stepping in would be a no-brainer, considering the way Chung previously reacted when TMZ approached him at Delilah nightclub in West Hollywood and asked if he'd heard the rumors going around that he was Stormi's dad.
Instead of saying, you know, NO FREAKING WAY, Chung just started smiling and laughing, then shook his gorgeous head and walked away in his perfectly fitted white jean jacket. I'm gonna go ahead and forgive him because 1) he was out celebrating his birthday at the time and 2) he's just so nice to look at.
Obviously, I don't know if Kris is actually the one pulling the strings here. But the momager is a master spinner, after all, and I'm just so glad we can put this nonsense behind us now and move on.
But first, for your viewing pleasure:
You're welcome.
So where was Kylie in all this? Well, she reportedly thought the baby daddy rumors were so ridiculous (because she and Chung, y'know... never had sex) that she didn't feel the need to respond publicly, according to TMZ. Elite Daily reached out to Kylie's team about the reports, but did not hear back by the time of publication.
So, instead of worrying about this nonsense, she's been busy celebrating her first Mother's Day ever — duh! And she did it by honoring Kris, naturally, with promos on her Insta story all day for her new cosmetics collab with her mama. It's called the Kris Kollection, and I have never needed anything in my life more.
I mean, check out the color names in the eyeshadow palette:
I know, I know — my screenshot's a little blurry. But squint real hard and you'll see there are shades called "I Love Myself," "Payback's A B*tch," and "It's An Emergency." So iconic! All that's missing is this one:
And, of course, because no holiday at the Kar-Jenner compound would be complete without a bunch of oversized letter balloons, Kylie also shared a pic of the metallic pink bad boys she was gifted with.
Ready to see what they spelled out?
Yup, Kylie got MILF balloons, because OF COURSE she did!
Now, if only we knew who sent them...