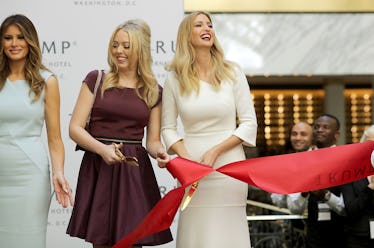 Tiffany Trump's Comments About Ivanka Reveal So Much About Their Relationship
Chip Somodevilla/Getty Images News/Getty Images
Tiffany Trump definitely has not been in the spotlight as much as the other Trump children. She is, after all, the first half-sibling to Trump's three elder children, so her bond with them is not quite the same as the one her three older brothers and sister have with each other. But despite this fact, we can definitely tell that she has a particularly special bond with her sister, and the only other female Trump child. Tiffany Trump's quotes about Ivanka show that she is truly proud to call her a sister.
Even though Trump is only half-related to fellow Trumps Eric, Don Jr., and Ivanka, it's clear that she loves her siblings and is grateful to have them in her life. An she's obviously particularly grateful for Ivanka, with whom we can tell she shares a special relationship. After all, they are the only sisters that each other have. And it's clear that Trump is following in the mold of little sisters everywhere looking up to their big sisters.
Ivanka can regularly be spotted on Trump's Instagram account and she loves supporting her big sis and sharing their close bond with her followers. Tiffany promoted Ivanka's new book, Women Who Work, published in May 2017 to her 952k followers and gushed over how proud she was of her. She wrote in the post, "I'm so proud of my big sister @IvankaTrump on the launch of her#WomenWhoWorkBook! I can't wait to start reading it!"
It's clear that Trump admires her big sister for all the things she's accomplished.
Back when she was just 17-years-old, Trump expressed how proud she felt to be the younger sister of such successful siblings. "My brothers and sister, they've all achieved so much in their lives and had so much success, but I'm 17," she shared in an appearance on the Oprah Winfrey Show in 2011. "So I'm just growing. I'm just learning, and I have a strong head on my shoulders,"
Despite Trump's significant social media presence, she wasn't always close — or even around — the elder Trump children. This was in part due to the fact that she moved away to California with her mother Marla Maples when she was seven years old.
Ivanka, however, remained close to Trump, and even helped her out when her little sis needed her. In Ivanka's first book, The Trump Card: Playing to Win in Work and Life, she shared a moment from their relationship that shows how much Ivanka looks out for her younger sister. When Trump wanted to ask her father for an allowance, Ivanka wrote,
Big Sis did an end-around to save Tiffany the trouble. I didn't tell her, of course, but I went to our father and suggested he think about surprising Tiffany with a credit card for Christmas, with a small monthly allowance on it. Sure enough, he did just that. Tiffany was thrilled and relieved. And so appreciative. That made all the difference, we all appreciate what we have.
Being the only two Trump girls in the family warrants a strong relationship between the two, no matter how they are related. It's clear that Tiffany Trump is very happy to have a place in the Trump family and have siblings that accept her and love her, particularly Ivanka.
Honestly, if I was in Tiff's place, I don't know what I'd do without a big sister to turn to. Being thrust into the spotlight like she has definitely isn't a cake walk by any means, so it's great to see that Trump has that support system in Ivanka to carry her though her life as a public figure.