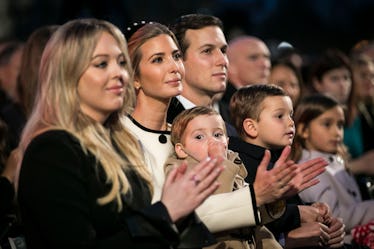 This Ivanka Trump Quote About Tiffany Reveals So Much About Their Relationship
Pool/Getty Images News/Getty Images
The subject of Tiffany Trump's relationship with the rest of the first family has always been an interesting one, particularly because there's a temptation to look at her as "the other Trump" — which is what a memorable New York Times piece from October 2016 referred to her as. But when it comes to explaining the 24-year-old's relationship wither her big sister, Ivanka Trump, there's another piece of work that proves much more insightful: Ivanka's first book, The Trump Card: Playing to Win in Work and Life. Within the book, a direct Ivanka Trump quote on Tiffany reveals a lot about the nature of the two sisters' relationship.
The quote comes from a portion of the book in which Ivanka talks about the relationship between the Trump kids and money from their father, now President Donald Trump.
Ivanka, Eric, and eldest son Donald Trump Jr. didn't look to their dad "as an ATM machine," Ivanka wrote, but they did, however, get to indulge in spending at his expense. That benefit came from being close to their father, Ivanka says — in the book the eldest daughter writes that the three oldest children lived a couple floors away from Donald Sr., whereas Tiffany Trump lived in California with their father's second wife, Marla Maples.
So, when Ivanka's then 15-year-old younger sister approached her about how she was nervous about asking their father for an allowance, Ivanka made sure that Tiffany Trump never had to even ask Donald Sr. directly.
In the key quote within the book, Ivanka wrote,
Big Sis did an end-around to save Tiffany the trouble. I didn't tell her, of course, but I went to our father and suggested he think about surprising Tiffany with a credit card for Christmas, with a small monthly allowance on it. Sure enough, he did just that. Tiffany was thrilled and relieved. And so appreciative. That made all the difference, we all appreciate what we have. We don't take advantage of it or expect it as our due.
The quote highlights what seems obvious about Tiffany and Ivanka Trump's relationship: the younger sister seems to be closest to Ivanka, who in turns appears to sympathize most with Tiffany's distance from the rest of the family.
The factors that contribute to that distance are pretty obvious and are alluded to in Ivanka's book. Ivanka and her two oldest brothers are products of President Donald Trump's first marriage. Despite that marriage ending more than 25 years ago, the president's first wife still carries his name and has lived in New York all the while.
Tiffany Trump, on the other hand, moved to California when she was seven years old, the books notes. In California, Tiffany lived with her mom, Trump's second wife, Marla Maples. Despite having four half-siblings, Tiffany is still an only child of sorts — the only child from the president's second marriage.
That distance was palpable during the 2016 presidential campaign. The New York Times' notable story about Tiffany Trump points out how the 24-year-old daughter was left out of a documentary of then candidate Donald Trump's life, which was shown at the Republican National Convention.
The piece also notes that in a Fox News special about the president's family, the only mention of Tiffany was, "There is also Tiffany Trump, who keeps a low profile."
Despite the unique relationship Tiffany has with the rest of the Trump family, she still seems to share a closeness with Ivanka.
In a July 2016 interview with People, Ivanka told the magazine "She's my little sister! I've been close to Tiffany her whole life, and I really love her." Ivanka also said that after Tiffany moved back to New York, the bond between the two sisters was strengthened.
"It's wonderful because she's right here in New York," Ivanka told People. "She'll come with [me and Jared to our country house] on weekends sometimes, and she's always with my kids. She's a really good person."
All in all, Tiffany Trump's relationship with the first family seems like it can be summed up in simply.
She appears just a bit distant from everyone else, which is most notable at times like New Year's Eve, when she celebrated away from Mar-a-Lago.
Still, she manages to be close to Ivanka.