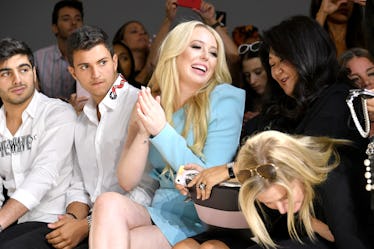 Tiffany Trump Posted A Very Personal Message About The Devastating California Wildfires
Dia Dipasupil/Getty Images Entertainment/Getty Images
Whether your BFF is fighting fires on the West Coast, if you have family members who have had to evacuate their homes, or if you're helplessly watching the devastation on the news, you most likely have some sort of connection to the California wildfires. A number of celebrities have started speaking out about how the natural disaster has affected their lives. Most recently, though, the President's daughter took to social media to express her connection to them, so if you haven't already seen Tiffany Trump's Instagram about the California wildfires, you should definitely take a look — it was incredibly personal.
On Sunday, Nov. 11, Tiffany Trump took to Instagram to talk about her devastating connection to the California wildfires. Elite Daily reached out to the Trump Organization for comment, but did not hear back in time of publication. The first daughter's Instagram post included a photo of a fireman approaching the destruction, with text she wrote herself, expressing her empathy for all of the wildfire victims, as well as those who are helping the cause. She thanked everyone who has been helping the cause, including fire fighters, first responders, and those risking their lives to help. She also recalled her traumatic experience with wildfires, saying she had to evacuate her childhood home several times when she was growing up. Take a look at it, below.
In the Instagram post, Tiffany said:
My heart goes out to my friends and to all that have been affected and lost their homes due to these wildfires. Thank you to all of the fire fighters, first responders, and volunteers risking their lives and working relentlessly to contain #Woolseyfire. Growing up, I had to evacuate my home in Calabasas — but not until now has a fire burnt down houses within my community. Please pray for the safety and strength of our incredible firefighters on the front line.
In the caption of the post, Tiffany continued her empathetic remarks, and said: "Praying for everyone affected by the tragic wildfires in CA #staysafe #woolseyfire #campfire #hillfire"
While Tiffany appears to be incredibly empathetic and grateful for efforts to help the cause, President Trump seemed to think otherwise. On Saturday morning, the POTUS tweeted somehow blaming the wildfires on the state for supposedly neglecting their forests. He continued by threatening to take federal funding away if nothing changes, and although it might not happen, it's jarring nonetheless. In the tweet, Trump said: "There is no reason for these massive, deadly and costly forest fires in California except that forest management is so poor. Billions of dollars are given each year, with so many lives lost, all because of gross mismanagement of the forests. Remedy now, or no more Fed payments!" Yikes.
Tiffany Trump's post was incredibly compassionate, and although her testimony was a little sad, it definitely manages to give me a little bit of hope. There's a lot going on in California right now, however, the victims, firefighters, and first responders are working incredibly hard. Stay safe, everyone.