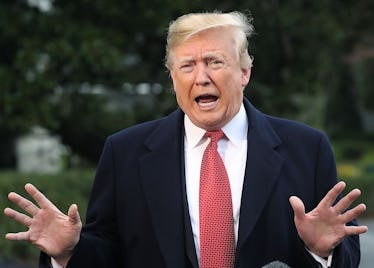 Donald Trump Basically Blamed California For Their Wildfires In This New Tweet
Mark Wilson/Getty Images News/Getty Images
President Donald Trump's Twitter fingers are at it again. On Saturday, Nov. 10, he took to the platform to address the massive wildfires that have ripped through parts of California over the past few days, threatening lives, destroying homes, and forcing many residents to evacuate with merely the clothes on their backs. While you would think he'd issue condolences on the tragedy, Donald Trump's reaction to the California wildfires seems to pretty much put the blame on the state.
On Saturday morning, Trump blamed the wildfires on "gross mismanagement" of the state's forests. He also threatened to withdraw federal funding from the state if something doesn't change in the aftermath of the blazes after at least nine people died and a town was practically wiped out. "There is no reason for these massive, deadly and costly forest fires in California except that forest management is so poor," Trump wrote in a tweet from Paris. "Billions of dollars are given each year, with so many lives lost, all because of gross mismanagement of the forests. Remedy now, or no more Fed payments!" Elite Daily reached out to the White House for further comment on Trump's tweet, but did not hear back by the time of publication.
In reality, California has always been fire prone because of its warm temperatures and low humidity. When it comes to the three blazes currently tearing through parts of the state, fire authorities have yet to determine a cause, so it's unclear where Trump pulled his information from.
Aside from his tweet, the wildfires have been truly tragic events. According to AccuWeather, evacuation orders have been issued for some 200,000 residents. Many buildings and homes are in total ruin, with risks increasing as the fires spread. In the wake of the wildfires, residents of the affected areas have taken to Twitter to chronicle their experiences and the tweets are heartbreaking.
Celebrities have also been affected by the fires. Former Olympian Caitlyn Jenner's Malibu home reportedly burned down completely. Her stepdaughter Kim Kardashian West's home was also hit by flames.
"I heard the flames have hit our property at our home in Hidden Hills but now have stopped," West tweeted on Friday afternoon. She added:
It doesn't seems like it is getting worse. God is good. I'm just praying everyone is safe. Fire Fighters, I love you and thank you for doing all that you can to keep us safe!
They weren't the only ones. Lady Gaga, Alyssa Milano, Rainn Wilson, and Charlie Sheen were among the many stars who have been impacted by the ongoing fires.
Sheen issued a frantic tweet of Nov. 9 writing that he could not find his parents during the chaotic evacuations.
Thankfully, his parents later said that they are "just fine," per Page Six.
Though it probably would've been nice to hear some supportive words from the president in the wake of this ongoing disaster, at least the victims are seemingly sticking together and seeing each other through it. Here's how you can help the victims of the California wildfires, too.