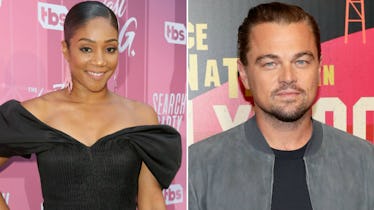 Tiffany Haddish Wants Leonardo DiCaprio To Be Her "Baby Daddy," So There's That
Rachel Murray/Getty Images Entertainment/Getty Images | Isaac Brekken/Getty Images Entertainment/Getty Images
It's well known that Tiffany Haddish can get pretty controversial. She basically says whatever's on her mind at any given time and people love her for it. And now she's hoping that Leonardo DiCaprio will love her for it, too. In a new interview with Entertainment Tonight, Haddish dished on her love for DiCaprio and even expressed a desire to make babies with him! Yep, Tiffany Haddish wants Leonardo DiCaprio to be her baby daddy and there's absolutely no shame in her game.
On Friday, July 6, ET's Courtney Tezeno interviewed Haddish at An Evening With Tiffany Haddish for Hollywood Confidential's panel series, which took place at the Saban Theater in Beverly Hills. During the festivities, Haddish played a game called "She Ready" during which she took questions about her personal life.
If you don't already know, Haddish's love life is rather interesting. She married and divorced William Stewart twice. But all that aside, Haddish hasn't lost her desire for true love just yet. In fact, she told ET's Tezeno, "I'm ready for DiCaprio to be my baby daddy, but I don't think Leonardo's ready. He not ready."
And there's a hilarious reason Haddish doesn't think DiCaprio is ready for her.
"I might be too aggressive," she explained. "That's something I gotta work on."
I don't know. Something tells me DiCaprio could handle it if he really wanted to.
In any case, it's great that Haddish lust for love hasn't soured in spite of her personal woes. But her personal life wasn't all Haddish talked about during her An Evening With Tiffany Haddish panel. She also revealed her unique approach to fame, which includes being very selective about which projects she takes on.
Of her wild rise to fame over the last two years, Haddish said, "I've been picky from day one! I only do roles that resonate with my spirit. Like, when it makes me feel good, I'll do it. Everything that I've done has made me feel confident in what I have to give the world."
What an awesome mindset to have! And it's working for her, too, because she went from a little-known talent to a household name in no time at all. Pretty amazing when you take a step back and let it sink in.
Haddish was also keen on sharing advice on how to make it in Hollywood and in the world in general. And the most refreshing thing she said was that being successful is about bringing joy to other people.
Here's her advice for those looking to succeed at their craft:
"My best piece of advice is to believe in yourself, no matter how or what anybody says to you," she said. "If you know you have a gift to share with the world, and it's coming from a place of like, love, and really just wanting to share. Like, I never wanted to be famous. I just wanted to share what I have. And I just wanted to bring joy."
That's a powerful statement and you can really feel that come through in her work.
Maybe Haddish's desired baby daddy DiCaprio will feel it, too, and make her dreams of motherhood and Leo-Lovin' come true.
Unfortunately for Haddish, though, DiCaprio is currently attached to 21-year-old model Cami Morrone. The two actually just went on a super romantic massage date in Hollywood. Apparently, DiCaprio's still got some bachelor habits left in him. So, Haddish is probably right in saying he's not ready to be her baby daddy just yet. Parenthood comes with all kinds of responsibilities and DiCaprio doesn't seem like he's ready to settle down.
I guess Haddish will just have to wait until her time comes.