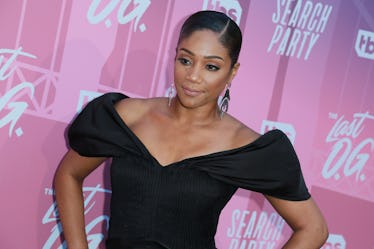 If You Love 'BoJack Horseman' You'll Be Obsessed With Tiffany Haddish's New Show
Leon Bennett/Getty Images Entertainment/Getty Images
Break out the drinks, Girls Trip fans, because Tiffany Haddish is finally taking her talents to Netflix. No, the hilarious movie about four best friends isn't coming to the streaming platform (but if that's happening soon, can you let us know, Netflix?), but don't fret: Tiffany Haddish and Ali Wong have an animated series coming, and it sounds so amazing. Tuca & Bertie may be an animated series, but don't expect it to be a regular ol' kids' show — with Haddish and Wong involved, you know things are about to get raunchy real fast.
Haddish and Wong will play the titular characters of Tuca and Bertie, two 30-year-old bird women who live in the same apartment building. Yes, you read that right, bird women. As with any good comedy, Tuca and Bertie are best friends despite their differences: Tuca (Haddish) is a "cocky, care-free toucan," according to Variety, and Bertie (Wong) is "an anxious, day-dreaming songbird." Based on what I know about each of these hilarious women, this casting seems totally on point. In addition to starring in the series, Haddish and Wong will executive produce, so get ready for plenty of jokes about single life, the difficulties of dating outside your breed (maybe Tuca will meet a nice robin?), and being too broke to afford a bigger cage — er, apartment.
As if the Haddish-Wong combo weren't amazing enough, Netflix has another great surprise up their sleeve. Tuca & Bertie comes from the team behind BoJack Horseman, the uber-popular Netflix animated series. The original idea behind Tuca & Bertie comes from BoJack production designer and producer Lisa Hanawalt, and BoJack creator Raphael Bob-Waksberg will serve as an executive producer on the new series alongside Hanawalt, Haddish, and Wong. No one does dark comedy like the people over at BoJack Horseman, so I definitely have some high expectations for Tuca & Bertie. But if anyone is up to the challenge, it's the triple-threat of Haddish, Wong, and the BoJack team.
Now that Tuca & Bertie has finally been announced, I have to ask: Tiffany, how are you surviving over there? Haddish is basically having the busiest year known to man, and she's showing no signs of slowing down. She's currently starring in Tracy Morgan's The Last O.G., just signed a two-year first-look deal with HBO, and is discussing movie ideas with Paul Thomas Anderson. With the addition of Tuca & Bertie, I honestly don't know how Haddish has time to sleep. But honestly, I can't really complain, because more Tiffany Haddish is always a good thing.
As soon as the Tuca & Bertie news was announced, BoJack Horseman fans (and fans of anything funny) took to Twitter to celebrate.
Netflix has already given the first season of Tuca & Bertie a 10-episode order, so there's plenty to celebrate. While there's no set date for the premiere, it seems like production is already underway, as producer Michael Eisner posted a photo from the group's first rehearsal on March 14. In the pic, Haddish is dressed casually and has her hair tucked up into a baseball hat, which I'm sure is nice considering that most days on set require a full face of makeup and four outfit changes. Sometimes animated TV has its perks.
While we wait around to find out when Tuca & Bertie will premiere, there's plenty of ways to watch Haddish and Wong in action. Haddish's The Last O.G. is currently airing on TBS, and Wong stars on the ABC comedy American Housewife. Or if you're just in the mood to laugh, you can check out Wong's unbelievably funny stand-up special, Baby Cobra, also on Netflix.
If you need me, I'll be watching Girls Trip on repeat to celebrate the Tuca & Bertie news. But TBH, I'd probably be doing that anyways.