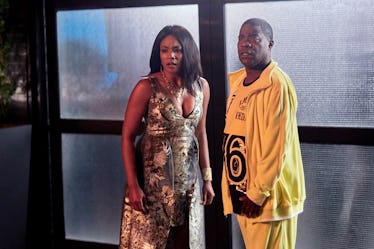 If You Love 'Girls Trip,' You Need To Start Watching 'The Last O.G.' ASAP
Francisco Roman
There's no denying that 2018 is the year of Tiffany Haddish. She's already killed it at the Oscars and started an internet frenzy about who bit Beyoncé, and now, Haddish is taking the TV world by storm alongside Tracy Morgan in a new show called The Last O.G. Part Girls Trip, part She's Gotta Have It, and part Get Hard, The Last O.G. showcases Haddish and Morgan's amazing acting talent and comedy chops. So, what's The Last O.G. about? If you like Tiffany Haddish or Tracy Morgan — and, let's be honest, who doesn't? — this TBS comedy is one you won't want to miss.
Morgan stars as Tray, a man who returns to his native Brooklyn after 15 years in prison to find that things aren't exactly how he remembers them. The neighborhood that was once predominantly black is now totally gentrified, and upon release, he's forced to navigate a sea of strollers, selfie-taking tourists, and moms forcing their kids to eat seaweed. Tray can handle this, but when he finds out that his ex-girlfriend Shay (Haddish) has fallen for a white guy, he's devastated. Tray becomes determined to win her back — especially when he learns that he's the father to her 15-year-old twins.
The Last O.G. could so easily be a drama (this stuff is heavy), but with Haddish and Morgan in the lead roles — plus Jordan Peele as a co-creator — you know it's going to be funny. In the first scene of the pilot, a flashback to the night Tray was arrested, he and Shay fight about who is going to win the first season of American Idol (will it be Justin Guarini or Kelly Clarkson?) as they eat dinner. After some hilarious banter, Tray runs to the corner store — against Shay's repeated urges — and is arrested for dealing crack cocaine. The tone shifts quickly, but The Last O.G. doesn't dwell on what's an otherwise bad situation: In prison, Tray becomes committed to bettering himself and the world around him, and once he's released, he tries to be a mentor to prevent young men from meeting a similar fate.
Tray's positive attitude is infectious, and the humor he brings to every situation will remind you of another hilarious character: Dina in Girls Trip. Haddish absolutely slayed as Dina, especially because she was cool being both laughed at and laughed with. Yeah, Dina is "the funny one" in the group, but she's also fiercely loyal and an all-around great friend.
In The Last O.G., Tray has the same qualities, making him a protagonist you'll want to root for. When Tray learns that he has two 15-year-old kids he's never met, he devotes his time to teaching them how to fight off school bullies and reminds them of the Brooklyn that he and their mom grew up in. Tray's commitment to the family he didn't know he had is beyond sweet, and even though things are complicated, you'll be shipping Tray and Shay in no time.
The chemistry between Morgan and Haddish is so great that it's unbelievable they haven't collaborated before. This may be their first project together, but according to Morgan, it won't be their last. Morgan recently told IndieWire that he'd love to remake Bustin' Loose, a 1981 comedy starring Richard Pryor as an ex-con and Cicely Tyson as his new employer, with Haddish:
He's a con, he's a hustler. Surrounded him with some wayward kids, and they ended up fixing him. One thing they had in common, they both loved those kids. I'd love to do it with Tiffany Haddish. She could play Cicely Tyson's role, I can see it!
Um, is it too early to get tickets for the Bustin' Loose reboot?
The Last O.G. airs at 10:30 p.m. ET Tuesdays on TBS.