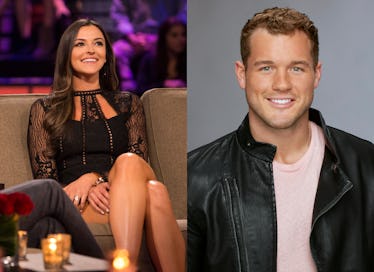 Tia Is Ready To "Move On" With Colton & See What 'Bachelor In Paradise' Brings
ABC
Her name was a fiery point of discussion once again on The Bachelorette's Men Tell All special, but Bachelor Season 22 star Tia Booth is ready to put the role she played on Becca Kufrin's season behind her and embrace what Bachelor in Paradise has to offer. Tia received flack for confessing to Becca after hometown visits that she still had feelings for contestant Colton Underwood, but Tia's quotes about Colton prove that she's ready to "move on," no matter what Paradise may have in store for her.
Just as she hit the beach in Mexico in film Season 5 of Paradise in early June, Tia spoke to Entertainment Tonight about the ambiguity between herself and Colton, who she hadn't seen at that point since joining Becca and their Bachelor friends on an early group date. On that date, both Colton and Tia assured Becca that there were no real feelings between them, but once Tia learned how far Colton had made it in the competition, she had to speak her peace.
Audiences don't exactly know the truth of how Colton felt about Tia that late in the Bachelorette process either, and Tia was apparently just as clueless about his state of mind as fans were. She told ET:
I feel like me and Colton are just a big question mark, because we haven't gotten to have that conversation about where we stand, about how he feels about me. I don't know how he feels about Becca and if he's still heartbroken.
Based on the footage we've seen in Paradise promos, it looks like Colton is one of the late arrivals to Mexico, which means we get at least one or two episodes of Tia pining for the hunky football player to show up. However, the latest Paradise teaser hints that Tia also hangs out with Chris Randone, putting Colton smack dab in yet another love triangle. Depending on how upset Colton still is about leaving Becca, it might be great for Tia to try things out with someone else, but right as Paradise kicked off, the Arkansas native was still fixated on clearing the air with Colton, saying:
I think the conversation definitely needs to happen. There have been times that I've wondered, 'OK, was he interested in me being the Bachelorette and he wanted to get to know me first before he was on my season?' I try not to think too much into it, but I'm interested to talk to him and just see where we stand. It just needs to happen and move on. If we're both feelin' it, yeah, we could go on a date.
Get it done, girl. The sooner, the better, so you'll know whether or not you have a Bachelor-related date to Raven and Adam's inevitable Paradise wedding.
Tia, Colton, and Chris also join a cast that includes a healthy dose of fan favorites and forgettable faces from the past few cycles of the Bachelor franchise. In the full-length trailer, viewers can spot outbursts from Bachelorette Season 14 "villain" Jordan Kimball and fleeting moments of internet favorite Grocery Store Joe stuck in his own love triangle with Bachelor Season 22's Kendall Long and Bachelorette alum Leo Dottavio. Meanwhile, Season 22's Krystal Nielson is just loving how Paradise is so "rad."
Earlier this year, not much would have distracted me from Krystal's antics, but Colton's tears in the promo are too difficult to ignore. He spoke so frequently about the circumstances of his relationship with Tia that it's hard to tell what's true, but when speaking backstage at the Men Tell All taping, he hinted that Tia's confession to Becca left him blindsided, telling Entertainment Tonight:
I'm proud that she risked her friendship with Becca to come back and talk and speak her truth. But I am frustrated, and I am a little confused, because the last that I saw of Tia was at the spa date, when we all were on the same page and she was wishing me well on my journey. It just didn't play out the way that I thought it was going to play out.
Hmm, so many viewpoints, so little time. We'll have to wait and see how these two onetime lovebirds handled their...interesting situation on Paradise this summer.
Season 5 of Bachelor in Paradise begins on Tuesday, Aug. 7, at 8 p.m. ET on ABC.