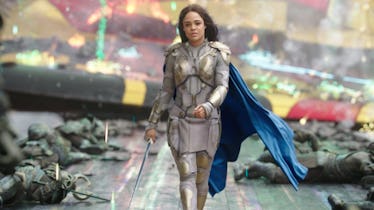 Netflix's Description For 'Thor: Ragnarok' Is The Best Thing You'll Read Today
Marvel
One of the smartest deals Netflix made back in 2012 was securing the first run streaming rights to all Disney produced movies starting in 2016. This means the site has gotten the first crack at streaming everything from Rogue One onward in the Star Wars world, everything Pixar's released since Finding Dory, and all the Marvel Cinematic Universe films beginning with Phase III and Captain America Civil War. Its latest acquisitions include Thor: Ragnarok, which arrived June 5, and Star Wars: The Last Jedi which turned up June 26. But of the two, it's Thor: Ragnarok's Netflix description that is making a huge buzz and reminding everyone how funny the people involved with the movie are, both on screen and off.
Thor: Ragnarok's timing was perfect when it turned up on Netflix at the beginning of June. Avengers: Infinity War was just leaving theaters once and for all, and Ant-Man & The Wasp would not be out until after the July Fourth holiday. This left a month-long gap where Marvel fans needed something to help fill the void, and Luke Cage Season 2 wasn't arriving until June 22.
But more importantly what fans needed, after the Shakespearean tragedy of Infinity War, was a good belly laugh. And Thor delivers in spades, even on repeated viewings.
Even better, Thor: Ragnarok delivers belly laughs even before you hit play. Netflix descriptions are usually short and sweet, but this one is not only short and sweet but stuffed full of puns.
When it rains, it pours for the God of Thunder. Stuck on a cosmic scrap heap, he is being hammered from all sides.
Did that hit the nail on the head or what? Do we need to hammer it home some more? This hurricane of puns will laugh up a storm in your Netflix queue, blowing away the competition in a windstorm of wordplay.
This sort of rapid-fire punning is a hallmark of the kind of humor director Taika Waititi would have come up with. It is doubtful Netflix had him write this; it was most likely simply inspired by his type of humor. But it's good to know that while Netflix still has access to streaming these films, it is making the most out of them.
Netflix needs to make the most out of the time it has, because it's coming to an end sooner than the streaming service would like. Last summer, Disney revealed it was ending the deal starting with its 2019 releases. This means Netflix will be getting Avengers: Infinity War, but won't get to stream Avengers 4, or for that matter Star Wars: Episode IX.
It also won't get to stream Thor 4 (perhaps better called Thor: Ragnarok 2). Although Thor was originally contracted to run for three stand-alone films, Waititi's humorous and irreverent take on the franchise brought new life into both the story and Chris Hemsworth's take on the character. Since the film's successful run at the box office at the end of 2017, there's been talk of extending Thor to one final film for Phase IV.
Hemsworth has made it clear he'll come back but only if Waititi agrees to direct again. The two of them have been spitballing ideas according to The Express:
We gave cheers to Thor 3. But it also was like what could we do with four? We could do this and this. We were throwing ideas around. But also, just to work together again. That was one of the most enjoyable creative partnerships I've ever had. It just depends on how the Avengers [movies] all wrap up.
Fans will have to wait and see. Meanwhile, Thor will be seen next in Avengers 4: No We Don't Know The Title Yet Stop Asking, which arrives on May 3, 2019.