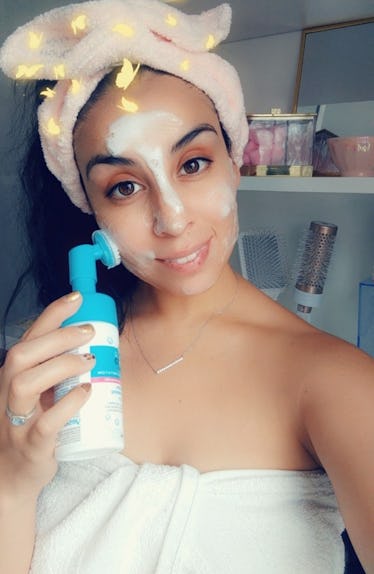 Throw Away Your Cleansing Brush, Because This $10 Face Wash Literally Has One Attached
When it comes to getting dirt, oil, and makeup out of your pores, cleansing brushes and face wash are a match made in skincare heaven. So the moment I saw a new, weird-looking contraption, I couldn't wait to do my own Yes To Cotton cleanser review. Throw in the fact that the face wash/brush hybrid only costs $10, and I had myself a master cleanse recipe.
Swiping a cleanser on your face with your fingers isn't enough to get really deep into your pores, and unless the cleanser you're using has exfoliating properties, you're not really sloughing off dead skin. Leaving that oil, dirt, makeup, and dead skin on your face (even though you can't see it when you look in the mirror) can lead to breakouts and enlarged pores. But at the same time, if you choose an exfoliating cleanser that happens to be too rough, it can leave your skin looking blotchy and feeling dry. What's a person with a face to do?
This is where the cleansing brush comes in handy. Pairing a brush with a gentle cleanser provides a deep clean and daily exfoliation without completely stripping your skin. Since you shouldn't be using one without the other, wouldn't it be genius if someone invented a product that did it all? Get you a face wash that can do both.
Yes To Cotton just killed the skincare game with their new take on an efficient and effective cleanser. The Anti-Pollution Oxygenated Foaming Cleanser ($10; Ulta) is formulated with cotton extract — how, you ask? Well, it comes from a flower after all, so think of it as a cool alternative to rose water or lavender — and oxygen, which both work to deep clean your pores and infuse the skin with anti-pollution protection. The cleanser foams into a light lather that is even gentle enough to use on super sensitive or allergy-prone skin.
But the best part is it comes complete with a built-in cleansing brush to give those pores a super deep clean. Pump the handle to release just the right amount of cleanser and use the super soft silicone bristles to massage your face in small circular motions. Between the oxygenated foam, cleansing cotton extract and gentle scrubbing, your face will be cleaner and look fresh and clear after the first time you use it.
I've always been a huge fan of all Yes To products, because they're super affordable and everything is almost 100 percent natural. The charcoal and tomatoes line is one of my favorites, but this Yes To Cotton oxygenated cleanser just earned itself a permanent spot on my bathroom counter. And is it just me, or did this oddly shaped cleanser make my shelfie (see above) look so much cooler? I don't know, but it definitely stepped up my pre-shower selfie game (see below).
In case you haven't explored Yes To's range of affordable and super fun products, here are some new items of theirs that I'm about to keep on repeat — and not a single one will cost you over $17! Praise!
I'm freaking out over these new products from my favorite Yes To Tomatoes line! The Yes To Tomatoes Detoxifying Charcoal Paper Mask Beauty Box ($17, Ulta) looks like a pack of wipes, but dispenses 10 sheet masks, which makes masking while you travel a breeze.
Speaking of travel (including packing for the gym), this Yes To Tomatoes Detoxifying Charcoal Mask Bar + Charcoal Brush Set ($17, Ulta) is a mud mask in solid form. You don't have to worry about that tube exploding in your bag anymore. And it comes in a mesh bag so you can throw it in your gym bag for a post-workout detoxifying facial.
If you're into multi-masking, this Yes To Triple Masking Kit with Cucumber, Charcoal and Grapefruit ($4; Ulta) makes customizing your facial so easy.
Yes To Coconut Ultra Hydrating Moisturizing Coconut Oil Stick ($10, Ulta) is perfect for the beauty junkie who wants the benefits of moisturizing coconut oil, but hates leaving greasy fingerprints all over her apartment. Swipe this solid oil stick all over your face for hydrated skin on the go.
Mud masks can be messy, but this Yes To Cucumbers Cooling Mud Mask ($16, Ulta) rolls product on your face so you never have to touch it. And it's formulated with cucumber and micellar water to deep clean, while soothing and hydrating your skin. FYI mud masks don't usually do that.
Last, but not least, this Yes To Grapefruit Snapmask Stick ($16, Target) comes in a twist-up stick form (like deodorant, but cooler) and when rubbed on a damp face, creates a quick-drying mask that imparts glowing skin in just 5 minutes.
Skincare, man. This stuff just gets cooler and cooler.