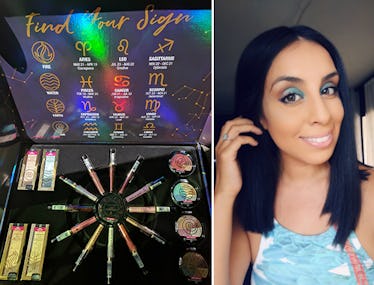 Wet N Wild Is Dropping $7 Zodiac Makeup & I Tried My Sign's Look
Wet N Wild/Stephanie Montes
I've been reading my horoscope since I was a teenager, so it's no surprise I'm a sucker for anything zodiac inspired. Now slap my sign on a lip gloss and I can hardly contain myself. So, when I heard I'd have the opportunity to wrote a Wet n Wild Zodiac collection review, I saw stars — literally. But with a total of 12 lip glosses, four highlighters, four eye shadow palettes, and a loose highlighting powder all staring me in the face, I had no idea where to begin. So, I let my sign guide me. I'm an Aquarius, and this is the makeup look made especially for my sign.
Let's start with the eye shadows. There are four metallic palettes that look like completely different color wheels. Each one is inspired by a different element: Earth, air, fire, and water. The Air Eyeshadow Palette is packed with holographic shades of pink and purple and rounded off with neutral shades of gold and bronze. It's light and airy! Just as the name suggests, the Fire Eyeshadow Palette is hot with shades of red, auburn, copper and brown. And just like you'd expect, the Earth Eyeshadow Palette is loaded with earth tones of green and brown. Finally, mine is the Water Eyeshadow Palette and it's flooded with cobalt and teal blues as well as pearlescent neutrals rivaled only by real salt-water pearls.
The Megaglo Highlighting Bars are also inspired by the elements. You can find a marbalized blue bar that gives your cheekbones a hint of an ocean-inspired glow — this one is of course, the Water Megaglo Highlighting Bar. the Fire Megaglo Highlighting Bar has a much more subtle finish. Contrary to the name, it's not an intense fiery red, but a gorgeous rose gold. If you prefer a light gold sheen on your highlight points, consider the Earth Megaglo Highlighting Bar. And finally, the's the Air Megaglo Highlighting Bar that looks like a marbleized masterpiece of pinks and golds, but swatches as a subtle silver shade. And the best part is each bar has all of the signs embossed right into the powder, which not only looks cute, but encourages all signs to experiment beyond their element.
But if you're the kind of makeup junkie that prefers a cheekbone that can be seen from space, the Megaglo Loose Highlighting Powder will make you shine brighter than the North star. And speaking of stars, the powder is despensed through these cute star-shaped holes.
And my favorite product of all is the ColorIcon Lipgloss, but for the chic packaging and shiny contents of each bottle. Available in 12 shades, one for ever sign in the zodiac, the collection is packed with glittery finishes, holographic shades and transformative formulas — all except for Aries', but that's only because they're confident enough to walk their own path.
So, to create my own Aquarius-inspired makeup look, I started with the Water Eyeshadow Palette. I used the teal and pearl shades in the inner corners, the brown in my crease, the champagne shade on my browbone and the dark blue as an under liner and outer wing.
I was surprised the Aquarius ColorIcon Lipgloss wasn't a purpley pink holographic shade. Instead, it was a glossy shade of light pink, which now makes sense, because it compliments my eye shadow perfectly.
Finally, I dusted the Water Megaglo Highlighting Bar along my cheekbones. It leaves a very obvious blue tint behind, which is usually cosmos out of my comfort zone, but it makes the makeup look in this case.
If you're interested in creating your own makeup look inspired by your sign (or any other sign), you're in luck. Everything in the collection ranges in price from $3 to $7. The Wet n Wild Zodiac collection will launch on walmart.com and wetnwildbeauty.com on July 17, and it will hit Walmart stores on August 1.