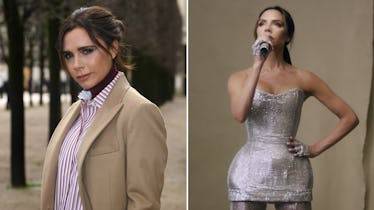 Victoria Beckham Trolled 'Spice World" In Her Photo Shoot With 'Vogue', So Prepare To LOL
Pascal Le Segretain Getting Images & YouTube
God bless Victoria Beckham. I mean, honestly. What hasn't this woman done for us? She's gifted us the soundtrack to all of our youths. She serves us fashion, face, and fierceness on the regular. She's totally chill with the world swooning over her stupid-gorgeous husband. And now, she's dishing out some Spice Girls throwback gloriousness and I don't feel worthy. Beckham's British Vogue feature is everything you'd expect it to be, plus everything you didn't even know you wanted. There's an accompanying British Vogue video of Victoria Beckham channeling Posh Spice from her Spice Girls days, and it's just what the nostalgia doctor ordered.
The video is a cheeky play on Beckham's two seemingly contrasting personas. One is the glamorous and flashy Posh Spice we all know and love, and the other is the woman we recognize today — a minimalist, super chic fashion designer — THE Victoria Beckham.
British Vogue set the scene in their Instagram teaser. They captioned the clip: "To celebrate 10 years of the Victoria Beckham brand, British Vogue has joined forces with the style icon to reveal the true VB. Her modern, minimal style is what we all know her for. Or is it…? Click the link in bio to see the full video, where Victoria tells Edward Enninful what she wants, what she really, really wants… ✌️"
Beckham is in on the joke, hilariously explaining to the camera, "Today we're here at Vogue and we are shooting a cover story celebrating the rich and inspiring history of one of the most enduring style icons of all time, me, Victoria Beckham."
She continues, "This is where two fashion forces join to make something really quite incredible. This really is where two become one."
GET IT? TWO BECOME ONE? LIKE THE SPICE GIRLS SONG? Ugh, I love it.
The rest of the script is chock-full of Spice Girls references, not to mention Beckham stepping out in some of her most iconic Posh Spice outfits. She slinks out in a catsuit similar to the one she wore in the "Say You'll Be There" music video and rocks a similar silver dress (or maybe THE silver dress?) from the group's final concert in 2008. Of course, the Spice Girls staple platform sneakers make an appearance, too. Her comedic timing and delivery aren't too shabby, either, proving, yet again, that this woman can do everything.
I highly recommend taking five minutes to indulge.
In all seriousness, she truly is a fashion icon.
I did a quick Google search and scrolled through some of her line's clothes under the "Ready To Wear" tab. All of her looks are somehow unique yet still wearable. The only thing that might keep someone like me from buying her stuff is the hefty (I mean HEFTY) price tag. For example, one normal-looking brown sweater will cost you a cool $985. I'm clearly missing something as a non-fashion expert, but I can only assume it's made out of hair left on David Beckham's pillow in the morning at that price.
If you're looking to spice up your life, you can start with this brown sweater (or just watch the video).