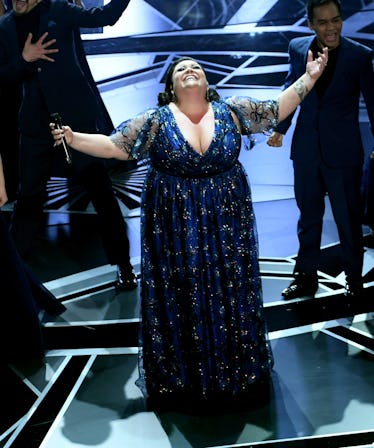 'The Greatest Showman' Oscars Performance Will Instantly Give You Chills
Kevin Winter/Getty Images Entertainment/Getty Images
Guys, I'm shook. Keala Settle just brought down the house with her performance of "This Is Me," the Oscar-nominated song from The Greatest Showman. That glittery dress, the background singers coming into the audience, her amazing vocals — literally everything about Settle's performance was amazing. Of course, all of the performances on Oscar Sunday were great, but The Greatest Showman Oscars performance had a little something extra to put it over the top. But what else would you expect from a high-flying spectacle about the Barnum & Bailey Circus?
In the film, Settle plays Lettie Lutz, a bearded lady in P. T. Barnum's circus. When Settle and the other "freaks" are rejected by a suddenly-famous Barnum, they sing "This Is Me" to insist that they are indeed worthy of being paid attention to, even though Barnum (Hugh Jackman) refuses to acknowledge them. As a result, "This Is Me" has become the body positive, pro-inclusivity ballad that people need in 2018, and it's gone on to take over Spotify playlists and amass millions upon millions of YouTube views. The performance at the Oscars was fittingly inclusive and so emotional as Settle belted out the meaningful words.
You can see the video of the performance here:
Immediately after Settle sang her last note, Twitter erupted with fans desperate for an encore.
"This Is Me" was written by La La Land songwriters Benj Pasek and Justin Paul, so it's no surprise that the catchy tune quickly became a mega-hit. In 2017, the songwriting duo won the Oscar for Best Original Song with La La Land's "City Of Stars," the sweet song that made us totally ship Ryan Gosling and Emma Stone (as if Crazy, Stupid, Love didn't already do that). In February, Pasek and Paul told The Hollywood reporter that watching Settle perform "This is Me" on the Oscars stage will be "so cool to us and so mind-blowing." Later, Paul explained that he and Pasek coordinated with the Oscars producers to make sure that Settle's performance does the song justice:
Everybody is really exited about captur[ing] the message of the song and in a way that takes what it is in the movie and brings it beyond that. I think the idea is to make something that feels universal and feels like a lot of people from all walks of life can identify with it and make it their own, so we're figuring out how to manifest that on stage.
Clearly, the Greatest Showman team and the Academy's producers accomplished their goal, because Settle's performance was moving beyond words. There wasn't a dry eye in the room — just ask Viola Davis, who was super into Settle's performance.
Settle didn't look a bit nervous during the televised performance, likely because she's no stranger to singing in large venues. Before appearing in The Greatest Showman, the Hawaiian actress and singer appeared in various Broadway plays, including Les Misérables and Waitress. In 2013, Settle was nominated for a Tony Award for her performance in Hands On A Hardbody, and while she didn't win, it was still an incredibly big deal for the relative newcomer.
"This Is Me" won the Best Original Song award at the Golden Globes in January, but that doesn't mean it was the clear favorite to win this year's Oscars race. Indeed, it lost out to "Remember Me" from Coco, preventing Pasek and Paul from winning back-to-back Oscars. However, even though the songwriting duo lost, they have enough serious hardware to prevent the loss from stinging too much. In addition to their Oscar for "City Of Stars," they have a Grammy and a Tony for their work on Dear Evan Hansen, the Broadway musical that dominated the 2017 season. With an Emmy win, the writing partners will be firmly cemented in EGOT history.
Thank you, Keala Settle, for giving me my dose 2018 inspiration. If you need me, I'll be watching her performance on repeat until next year's Oscars.