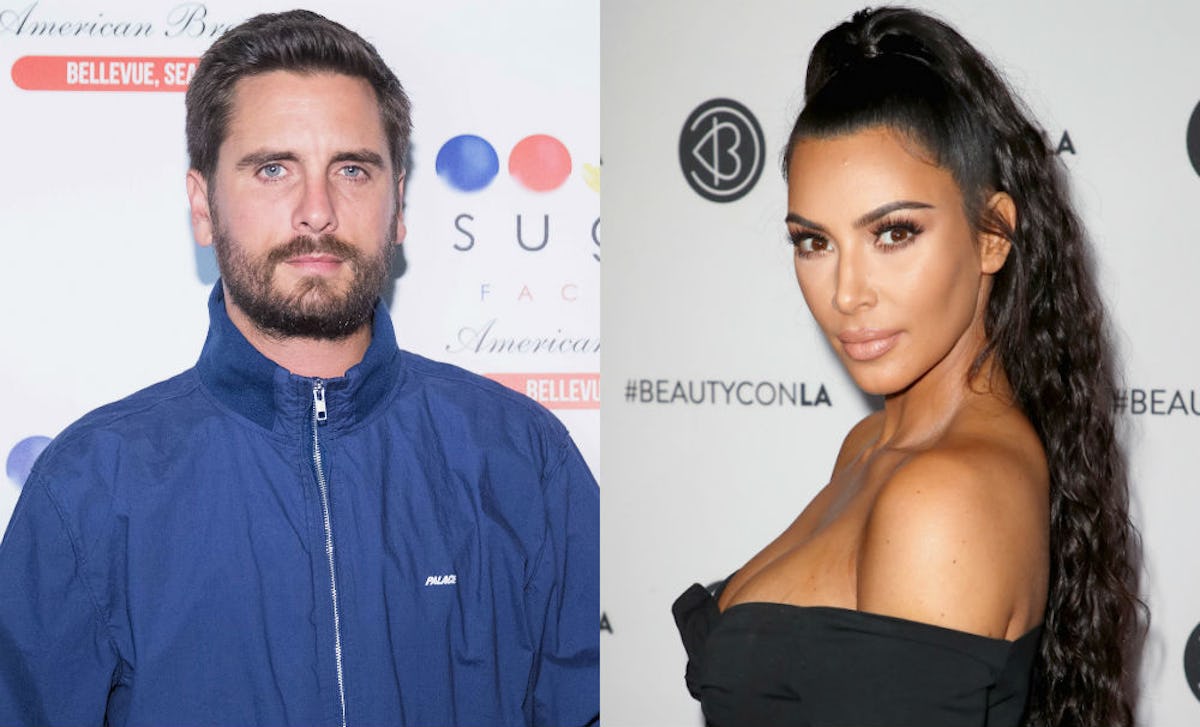 Scott Disick Revealed He Doesn't Like Looking At Kim K For The Most Hilarious Reason
Mat Hayward/Getty Images; David Livingston/Getty Images
Scott Disick isn't one to shy away from explaining how he feels. And in a recent video for an upcoming Keeping Up with the Kardashians episode, he revealed to that he's not too fond of looking at Kim Kardashian. The reason? Apparently, Kardashian can be incredibly critical of other people's appearances. She actually strikes fear into Disick, at least that's what he said in the video. Actually, the video of Scott Disick joking about Kim Kardashian criticizing him is really funny.
In the video, Disick can be seen chatting with Kris Jenner about a gift she's hoping to give one of her best friends, Sheila Kolker. Jenner wants to give Kolker a facelift and isn't sure it's the right move.
"When I had my face done, that was really a hard thing for me to go through. And who was there every step of the way? Sheila," Jenner says in the video. "It just occurred to me, like, she's wanted to do this for years, but this is just not something she would do. I want to do this for her and be there for her like she's always been there for me."
The idea prompts Disick to respond with, "Even though it's really a sweet gesture, are you at all nervous that you could offend her in anyway? Is it like, 'Hey, your face looks old?' Just think about it … If you told me that I needed something done, even if maybe I didn't, I would definitely go stare and look at whatever that was."
And that's when Jenner revealed that Kardashian does that exact thing to her. "Kim does it to me 24/7," Jenner reveals.
Disick concurs. "Kim does it to everybody in the world," he tells Jenner. "She catches everything. I don't even really like looking at Kim, because sometimes she's like, 'Is that a pimple right there?'"
Here's the video of Disick and Jenner chatting about facelifts:
Ha, so apparently Kardashian has everyone in her family feeling self-conscious about their appearance. And while it's humorous, it's not necessarily a good thing. Sometimes that can foster a familial environment that's maybe not as healthy or body positive as the Kardashians would like to be.
For example, Kardashian recently issued an apology for making insensitive comments about weight loss. In a video that surfaced a few months ago, Kardashian can be seen thanking her sisters for telling her that she looked like she hadn't been eating. "What? What? Oh my God, thank you!" Kardashian says in the video.
In an Oct. 2 interview on the Pretty Big Deal with Ashley Graham podcast, Kardashian clarified her comments.
"I honestly, looking back in having said that, I 100 percent completely understand where people would be coming from that felt that way," Kardashian explained during the podcast. "So my intention is never to offend anyone and I really, you know, apologize if I offended anyone, because an eating disorder is- I know people that have serious eating disorders that have been in and out of the hospital for 15 years—close people. So I've like, been through- I have experienced it enough to have, like, known better."
So, even though Disick and Jenner feel like Kardashian scrutinizes their appearance, it seems like Kardashian herself is trying to mellow out a bit.