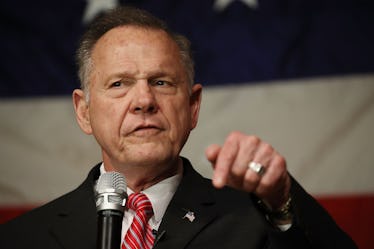 This Video Of Roy Moore Being Interviewed By A 12-Year-Old Girl Is So Cringeworthy
Joe Raedle/Getty Images News/Getty Images
In case you haven't been following the madness that is the Alabama special election, Republican Senate hopeful Roy Moore is currently embroiled in multiple sexual harassment and assault allegations involving underage girls — allegations he has consistently denied. So, who did a Trump-supporting super PAC recently send to interview Moore? Well, an underage girl. Needless to say, the video of Roy Moore being interviewed by a 12-year-old girl is so, so cringeworthy, and just altogether tone-deaf.
On Dec. 10, America First Project, a pro-Trump group founded by Breitbart staffers, posted a video of 12-year-old Millie March interviewing Moore. March, a vocal supporter of Donald Trump, donned her "Make America Great Again" hat and chatted with Moore about his campaign. The conversation was a strategic one.
"We decided that we were going to bring Millie to Alabama, after everything that's happened in this Alabama Senate race up until this point," America First Project's Jennifer Lawrence said at the beginning of the video. Lawrence added that they aimed to show that there are "a wide range of people who support Roy Moore."
It definitely seems like an odd choice to send a 12-year-old to interview Moore – especially in light of, you know, everything. And yes, this young girl may support Moore's run for office, but that doesn't mean the allegations should go away.
In the video, March asks Moore about what he believes Alabamans care about (religious liberty, healthcare, taxes) and what he's pushing for (fighting illegal immigration, building a wall, doing away with income taxes).
Twitter was pretty baffled/disgusted by the whole stunt.
Multiple women have stepped forward to accuse Moore of sexual misconduct, many of whom claim he approached them while they were in their teens. The youngest accuser, Leigh Corfman, told The Washington Post that she was 14 when the politician allegedly initiated a sexual encounter. Corfman alleged that Moore asked for her phone number and later picked her up in his car, drove her to his house, and began touching her.
Again, Moore has denied the accusations against him. "These allegations are completely false and are a desperate political attack by the National Democrat Party and The Washington Post on this campaign," Moore wrote in a statement to the Post.
Despite the allegations, the Senate hopeful recently received backing from President Trump, who waved away the sexual misconduct allegations. "Get out and vote for Roy Moore," Trump said during a Florida rally on Dec. 8. "We need somebody in that Senate seat who will vote for our Make America Great Again agenda."
With a day to go before the election, the race between Moore and his Democratic opponent, Doug Jones, is razor thin. According to a Dec. 11 Fox News poll, Jones has a 10 point lead on Moore. The poll shows him supported by 90 percent of Democrats, 50 percent of Independents, and 11 percent of Republicans.
In the last hours of the election, Jones has pulled in some big-name politicans to stump for him. Both Barack Obama and Joe Biden reportedly recorded robocalls for the Senate hopeful, urging Alabama residents to vote for the Democrat.
"This one's serious," Obama said in the call, according to CNN. "You can't sit it out." The former president didn't mention Moore, but sung the Democratic candidate's praises, saying,
Doug Jones is a fighter for equality, for progress. Doug will be our champion for justice. So get out and vote, Alabama.
Biden also took to Twitter to fight for Jones, writing,
Tomorrow, the people of Alabama will decide whether the United States Senate will gain the courage, character, and integrity of Doug Jones. Find your friends who can vote there, and make sure they're planning on doing it.
Looks like both Jones and Moore are bringing out the big guns for this election. Though, maybe, just maybe, Moore should stick to aligning with adult Republicans.