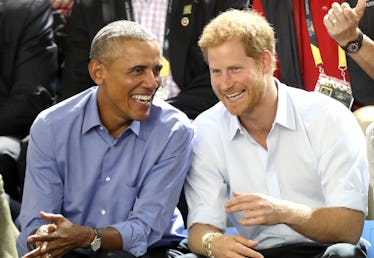 Prince Harry Interviews Barack Obama For BBC & It'll Warm Your Heart
Chris Jackson/Getty Images Entertainment/Getty Images
Shield your eyes, Joe Biden. This video of Prince Harry interviewing Barack Obama for BBC showcases a budding bromance, and it's definitely making everyone swoon. The meme potential here is endless, so prepare for the internet to unleash its creativity.
Prince Harry decides to take his journalism skills to the next level with this q&a. As part of his guest editorship of BBC Radio 4's Today show, he feels it's best to have a chat with Obama about encouraging the next generation of leaders to get involved. It's inspiring, it's heartwarming... and it's pretty funny (which you can see thanks to the brief clip we're given).
Though the topics are meant to encourage, the dynamic duo cannot help but joke around with one another. Obama asks if he needs a British accent while answering the questions, but Prince Harry gives him a pass on that one. However, there is a catch for the former president — he can't speak too slowly. "If you start using long pauses between answers, you'll probably get the face," the prince warns. Willing to comply, Obama replies, "I don't want to see that face."
These two besties are definitely going to make Joe Biden a wee bit jealous.
Kensington Palace has provided updates about what listeners can expect from the interview, which will air on Dec. 27 (consider it a belated Christmas present). The interview will also be released as a podcast, according to CNN. In a tweet, Kensington Palace reveals:
The conversation with @BarackObama includes his memories of the day he left office and his hopes for his post-presidential life, including his plans to focus on cultivating the next generation of leadership through the @ObamaFoundation.
The teaser is certainly getting people hyped for the big reveal. The two conducted the interview earlier this year during the Invictus Games, which Prince Harry founded. Photos of the event capture the bromance in all its glory (hang in there, Biden).
Obviously, this isn't the only big event from Prince Harry people are eagerly anticipating. He and his bride-to-be, Megan Markle, will officially tie the knot on May 19, 2018, at St. George's Chapel at Windsor Castle, and the buzz about the big day has not stopped since he popped the question a few weeks ago. Recounting the special moment, Prince Harry told BBC, "I had the ring in my hand and I was like, 'Can I give you the ring now?' And she said, 'Oh yes, the ring!'"
Markle was equally as excited about the swoon-worthy proposal, which began as a simple evening in the kitchen. During the BBC interview she revealed, "Just a cozy night, it was, what were we doing, just roasting chicken. It was an amazing surprise. It was so sweet and natural. Very romantic. He got on one knee."
If you're anxiously awaiting the impending nuptials but didn't secure a spot on the guest list (ugh, major bummer) there is good news. Cameras will allegedly be permitted in St. George's Chapel when the two lovebirds take their vows, Reports claim a pool camera will be set up, which means that all media outlets will be able to plug in and run the ceremony via broadcast TV, cable TV, and digital platforms, according to TMZ.
But guess who probably is getting an invite: Obama. Reports are beginning to circulate that Obama will be one of the esteemed attendees at the wedding. Upon hearing about Prince Harry's big news, he took to Twitter to say,
Michelle and I are delighted to congratulate Prince Harry and Meghan Markle on their engagement. We wish you a lifetime of joy and happiness together.
Mark your calendars, Prince Harry fans: Dec. 27, 2017 and May 19, 2018 are two very important days.
Check out the entire Gen Why series and other videos on Facebook and the Bustle app across Apple TV, Roku, and Amazon Fire TV.