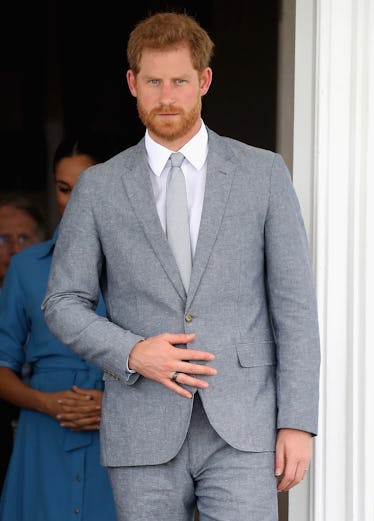 Prince Harry Broke Royal Protocol In A Big Way For A Boy Whose Mom Died, So I'm Emotional
Chris Jackson/Getty Images Entertainment/Getty Images
Prince Harry has a heart of gold and he definitely proved that at Auckland Viaduct Harbour on Tuesday, Oct. 30. The famous royal took some time out of his hectic tour of the land down under to speak with 6-year-old Otia Nante. The boy's grandmother told Harry that his mother died when he was just a baby. As expected, Harry had the most heartwarming responses and even broke some royal rules to comfort the boy. Actually, the video of Prince Harry breaking royal protocol will give you all the feels!
In the video, you can see Harry greeting Nante and then Nante presenting Harry with a letter he wrote. Harry took the letter and immediately put it in his breast pocket. And then the boy's grandmother chimed in to explain how Nante feels about Harry.
"He really looks up to you because he lost his mother, too," the grandmother said.
"Oh, really," Harry responded before turning to Nante. "How old were you when you lost your mum?"
"Nearly one," the grandmother said when the 6-year-old struggled to respond to Harry's question.
Then Harry tried to give some advice. "I can say don't you worry about having just one parent. Where's your dad?"
"No, I'm his nan and I'm raising him," Nante's grandmother explained.
And that's when the encounter got really emotional. Harry leaned over to tell Nante that everything would be okay in the end, no matter what.
"Life will always be all right, you know that?" Harry said. "I've made it to 34 years old, and life is great. I have a beautiful wife and a baby on the way. Your life is going to be sorted. Don't you worry about that."
Check out the video of Prince Harry comforting 6-year-old Otia Nante down below:
And it was after Harry offered those words of wisdom that he totally broke protocol by posing for a selfie with the little boy. Historically, the royal family does not pose for pictures or sign autographs. But since Nante and Harry made such a connection over the loss of a parent, it's clear that Harry decided he could make an exception.
Here's the photo Harry and the boy took together:
This isn't the first time Harry has broken royal protocol this month. On Oct. 16, he encouraged his wife Meghan Markle, Duchess of Sussex, to do the same when he spotted a little girl who looked strikingly similar to her.
The little girl, who wore a shirt that said "Girls Can Do Anything," was waiting to catch a glimpse of Harry and Meghan outside Sydney Opera House. The shirt caught Harry's eye and he waved his wife over to meet the young fan. And then he volunteered to snap a photo of them together which Meghan was happy to pose for.
You can see their sweet exchange below:
All in all, you can tell that Harry is especially keen on breaking a few royal rules, especially for the little kids who admire him and Meghan so much. I'm sure he sees no harm in doing it and has lots of fun meeting the people he (and his wife) inspire most. More than anything, though, it shows how human and approachable the royal family is.