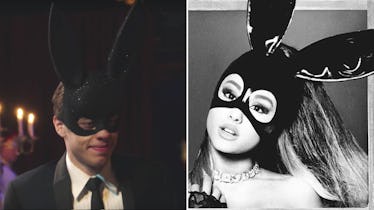 Pete Davidson May Have Teased His Crush On Ariana Grande In A 2017 'SNL' Sketch, So WTF?
NBC; Republic Records
If you're still reeling from all of these new revelations about Ariana Grande and Pete Davidson, you're definitely not alone. A lot of information has seemingly been crammed into just a few short weeks, so it can seem a bit difficult to keep up with this very short-but-chaotic narrative. But if you've been following the budding new romance, then you'll know that these two aren't complete and total strangers, considering Ariana Grande appeared on Saturday Night Live (where Davidson works) back in March 2016. And within that time frame, there was *definitely* a little detail that you missed that may have hinted at the idea of these two becoming an item. Yep, there's a video of Pete Davidson's Saturday Night Live sketch where he seems to be telling the world about his crush on Ariana Grande (or at least hinting at it), and it was hiding in plain sight for the world to see.
Let me take you back to a more innocent time: November 2017. Can you picture it now? Saturday Night Live had a hilarious sketch involving comedians Beck Bennett, Kyle Mooney, and Leslie Jones, but that's not the reason we're here now, is it?
In the sketch, there's one point where the SNL cast is having some kind of masquerade ball. We see a ton of notable stars sporting traditional face masks, but then, the camera zooms in on Pete Davidson. And do you want to take a guess at what our dear friend Pete is wearing? I'll tell you what he's not wearing: a regular masquerade-style mask. Instead, Davidson is sporting a BUNNY EAR MASK that shares an uncanny resemblance to Ariana Grande's mask that she wears on the cover of her Dangerous Woman album.
You can watch the whole skit unfold because it's hella funny, or you can skip to the 2:40 mark below to see Davidson wearing the bunny ears, which I'm *totally* taking as him subtly revealing his crush on Ariana Grande:
Did you see that? Blink and you'll miss it:
And here's Grande's cover album artwork:
YOU GUYS, HOW DID WE MISS SOMETHING SO VERY, VERY OBVIOUS?
Keep in mind that, at the time this SNL sketch was filmed, Davidson was still with his now ex-girlfriend, Cazzie David, though the pair have since broken up (obviously).
I find it mind-blowing that we're here now, poring over the details of Grande and Davidson's reported engagement that took place just weeks after it was revealed that the two were dating. Elite Daily reached out to Grande and Davidson's teams about the engagement rumors, but did not hear back by the time of publication.
According to a report from Us Weekly, Grande and Davidson "were telling people that they're engaged" while they celebrated at Robert Pattinson's birthday party in Los Angeles on Saturday, June 9, which seems a bit... fast to jump into, but you know what? We don't know the backstory. Perhaps they've been good, good friends ever since their introduction back in 2016. Actually, according to a viral conspiracy theory, they may have been dating long before the public had any clue.
One fan took to Twitter to try and wrap Ariana Grande and Pete Davidson's relationship into one tweet, and, TBH, I think they nailed it:
to sum it up: the timing was never right for them and when they realized they were unhappy in their other relationships, they realized they should have been together and the feelings were still there so that's why they got together so fast! thank you for coming to my ted talk
If this was one out of four answers to choose from on a multiple choice test about Ariana and Pete's love, this is the one I'd go with, so well done.
Alrighty then! Well, if anyone needs me, I'll be scanning every single SNL sketch involving Pete Davidson to see if he's given us any more clues about secretly pining over Ariana Grande.