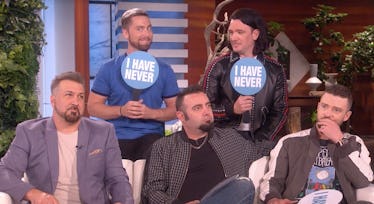 Justin Timberlake Revealed He Used To Hook Up With A Spice Girl & I'm SCREAMING
EllenTube
*NSYNC is back! Well, for a limited time only, but they're back. The group was honored with a star on the Hollywood Walk of Fame on Monday, April 30 (it's about time), and they made a surprise appearance on The Ellen DeGeneres Show shortly after. In the interview, airing May 1 (~it's gonna be May~), DeGeneres had the guys play a game of Never Have I Ever, and oh boy, the video of *NSYNC playing Never Have I Ever is everything the '90s fangirl in me has ever dreamed of. Justin, why did you break up the group?! Why?! I could've lived without "Cry Me A River" if it meant *NSYNC stayed together!
This game revealed a lot of things about the men who formed my childhood. A lot of the questions were about who they hooked up with when they were in the band, and wow, have my eyes been opened. DeGeneres asked things like if they've hooked up with someone twice their age, if they've hooked up on a tour bus, if they've hooked up with a fan, and if they've ever hooked up to an *NSYNC song (they all said no, but LOL, I definitely have). But the best reveal of all was when DeGeneres asked if they have ever hooked up with one of the Spice Girls, and Justin Timberlake said yes!!
Justin! Which Spice Girl was it?!
Timberlake reluctantly admitted he had hooked up with one of the women (DeGeneres literally placed her "I Have" sign on his knee because she apparently knew the truth), but he didn't reveal who.
Victoria Beckham once told a story about an encounter she and the rest of the Spice Girls had with *NSYNC at an airport, so this is making me think it was Posh Spice. But it's really easy to make that assumption when I have literally zero other information. Anyways, Beckham said in an interview on The Late Late Show with James Corden,
We were in Germany doing some road show and we were sitting there in an airport, five girls, all together. Some guy comes up and he says, 'Hey! I'm in a band. I've got my friends. Can we come sing for you?' ... They stood there and they could sing! And it was *NSYNC. And that was Justin Timberlake ... They shut us up because they were good!
My guess is it was Posh Spice, guys. I don't know, I just see how '90s Victoria Beckham and '90s Justin Timberlake would vibe, especially considering the fact that '90s David Beckham and Timberlake share some similar traits. And if it wasn't Posh Spice, I'm putting my money on Baby because she's basically the British version of Britney Spears. Do you think Jessica Biel knows which one it was? Ugh, I bet she does.
Biel got a shout-out during the game when DeGeneres asked if any of the guys had ever hooked up with a fan. (They have. There's no way they haven't. Come on.) Timberlake said, "What does that even mean?!" He knows what it means. Chris Kirkpatrick played coy and said, "My wife is a fan!" And then they all piped up about how their spouses are fans and like, guys, obviously. No one in their right mind isn't an *NSYNC fan. But that's not what DeGeneres was asking and you know it. Nevertheless, Timberlake said "Jessica is a big fan" and the game moved on. DeGeneres asked if any of them had ever joined the mile high club. Lance proudly said yes, J.C. and Chris said yes, Joey said no, and Justin tried to say no, but DeGeneres called him out saying, "That is not true, Justin," and he turned his card around to say "I Have." Guys, what dirt does Ellen DeGeneres have on Justin Timberlake?! She seems to have a lot...
Before they played Never Have I Ever, they talked about what it was like to get back together for the Hollywood Walk of Fame ceremony and performing at the VMAs five years ago.
Apparently, Joey and Chris were not aware dancing would be involved in the performance. LOL, guys... it was an *NSYNC reunion. Of course there would be dancing. You know what else would include dancing? A reunion tour.
Please, please, please go on a reunion tour. I will literally pay any dollar amount you deem worthy.
If you want it, here's my heart! No strings attached!