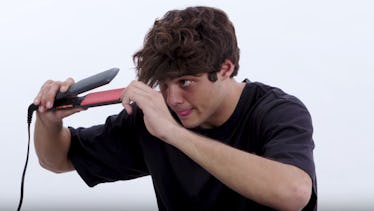 You Have To See This Video Of Noah Centineo Straightening His Hair & Reading Shakespeare
YouTube
The internet can't get enough of Noah Centineo. Ever since To All The Boys I've Loved Before released on Netflix in August and then Sierra Burgess Is A Loser a few weeks after that, people can't get enough of the heartthrob. These days, you can find him starring in a new video (what feels like) every week doing random tasks, because that's what the internet wants to see when they have a new collective crush: watch them do random, ~every day~ things. Celebrities, they're just like us! This video of Noah Centineo straightening his hair and reading Shakespeare is... oddly mesmerizing? I wouldn't trust him to straighten my hair tho. Sorry, pal.
Allure had Centineo try nine things he's never tried before in the video. On top of straightening his hair and reading Shakespeare, some of the tasks included doing an Elvis impersonation, braiding a fan's hair, guessing nail polish names, and they even had him hold a boombox over his head like John Cusack in Say Anything since, you know, Centineo is now a rom-com heartthrob himself.
Although I'm v impressed by his first attempt at a braid, isn't this guy tired of doing these videos yet? I feel like he must be getting tired.
Despite the John Hughes homage, the most ~heartthrob~ moment came when Centineo read lines from Romeo and Juliet and Hamlet.
One of the main reasons why people are so enamored with Centineo is because of how the roles he played in To All The Boys I've Loved Before and Sierra Burgess Is A Loser broke the mold of rom-com leading men. Instead of the hyper-masculine characters we see displayed in a lot of the classic '90s rom-coms (and honestly, the downright sexist archetypes women are put into in these movies), To All The Boys and Sierra Burgess have fully developed characters for their stars to portray. And the leading man is emotionally intelligent and sensitive from the jump instead of the movie being about him learning how to be a decent person, for once.
Centineo has explained in interviews that he can put himself into the roles of Peter Kavinsky and Jamey No Last Name Yet (seriously, his Sierra Burgess character doesn't have a last name yet) because he has spent the last several years allowing himself to feel his feelings instead of suppressing them. He told Bustle that he thinks the films have shown a more accurate depiction of what a "modern man" today really is. He said a modern man is "a man who is able to equally protect and be aggressive when necessary out of love — but also have an emotional intelligence," adding, "I think we're becoming more conscious as a society and more mindful of what's healthy."
To really drive this point home, Centineo is now the subject of photographer Sarah Bahbah's photo series called "Dear Love," and it's as heartthrobby as a person can get. The photos show Centineo looking all ~pensive~ with romantic captions like "I dreamt we were in love, then I woke up," and "You've never seen me not want you. Are you ready now?" Uh, yup. I can confirm I am ready.