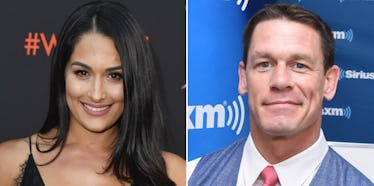 Nikki Bella's Joke About Her Breakup With John Cena On 'The Tonight Show' Is So Cringeworthy
Jon Kopaloff/Vivien Killilea/Getty Images
Nikki Bella is slowly but surely working her way through her breakup with John Cena. According to TMZ, the Total Bellas star is apparently moving out of the house she and John Cena once shared and is house hunting for her own place close to Brie Bella's California home. The twins appeared on The Tonight Show on Wednesday, July 25, and in their interview with Jimmy Fallon, they talked about breakups when they were kids compared to breakups now. And the video of Nikki Bella joking about her breakup with John Cena is so cringeworthy, it produced a unanimous uncomfortable groan from the audience. Even Jimmy Fallon let in a sharp breath between gritted teeth after Bella made the joke. It wasn't outright offensive or anything, but yikes, was it awkward.
Brie Bella explained that one of the perks of having a twin is that your voices are just as similar as your faces, so when they were younger and needed to break up with a guy, the Bella twins just had their identical counterpart call up the guy so they wouldn't have to deal with the awkward conversation. "We never had to go through, like the emotions of a breakup," Brie Bella said. People are able to giggle at that story because the guys whom the twins were breaking up with for each other were from their teenage years (and we all have hilarious middle and high school breakup stories, right?) but Nikki's quip afterward is what made the crowd groan. Nikki joked to Brie, "So, where were you a few months ago?"
Yuh-HIKESSSS. The crowd was not amused. While Fallon, who had the word "yikes" written all over his face, used that moment to segway into talking about the Bella/Cena breakup. The audience let out a collective "Ohhhh..." that prompted Nikki to awkwardly laugh in a way you only do when your joke didn't land. She turned to the audience and said, "Sorry," then turned to Fallon, visibly hoping the awkward moment would pass quickly. Brie Bella, trying to lighten the mood by making it clear they would never actually do that to Cena, said, "That would've been a hard phone call." She tried to laugh a little, but the moment happened, it was awkward, and Nikki Bella said, "oops," afterward. Oops, indeed, girl.
The moment happens around the 1:20 mark in the video. Y'all, I'm cringing.
Fallon asked what it was like to have your personal life documented on a TV show, especially when it comes to documenting moments like calling off your wedding after being with your partner for six years. Nikki responded, "Brie and I, we're just beyond open books, but we feel like if you want to have a reality show, you can't have the fake stuff. You really have to let people into your life, and that's how you connect with people."
Brie said, "I gave birth on camera, so after that, I'm like, OK."
Nikki said most of the seasons have been fine to watch — she's had fun watching them, in fact — but reliving her breakup with Cena this season was tough for her. And she's clearly still working through her feelings post-breakup given that awkward as hell joke about it. To be fair, it's only been a couple of months since they called it quits. I wouldn't be over Cena by now if I were her, either. Maybe now's just not the right time to make jokes about it in front of an audience full of fans?
The season finale of Total Bellas airs this Sunday, July 29, at 9 p.m. on E!.