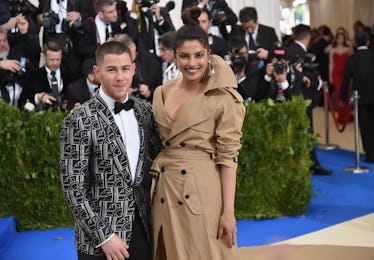 This Video Of Nick Jonas & Priyanka Chopra's Moms Dancing Together Is So Precious
Mike Coppola/Getty Images Entertainment/Getty Images
You know by now that the relationship between Nick Jonas and Priyanka Chopra is a serious one. What you probably didn't know was that their moms are getting along great. So great, in fact, that they're even dancing together. Well, they were dancing together two weeks ago, when Chopra and Jonas had their engagement party in India. In any case, this video of Nick Jonas and Priyanka Chopra's moms dancing is so sweet. You have to see it.
Jonas' mother, Denise Jonas, posted the video to her Instagram account. And, in it, you can see Chopra's mom, Madhu Akhouri Chopra, teaching Denise how to dance.
"Thank you @madhumalati for being patient with my lack of dance skills!" Denise wrote in the caption of her post. "I miss you. #engagementparty."
The two moms are super proud of their famous offspring. After Jonas and Chopra officially announced their engagement on Aug. 18, Denise took to her Instagram account to welcome Chopra to the family. Here's the sweet message she wrote in the caption of a photo of her son and his new wife-to-be:
'I have found the one whom my heart loves' Song of Solomon 3:4 Congratulations @nickjonas @priyankachopra on your engagement. Welcome to the family!
Chopra's mom, Madhu, was equally happy about the union and posted a sweet photo of herself and her daughter to her Instagram while celebrating the new engagement.
And it was during those celebrations that Denise and Madhu came together for a little dance lesson. Here's how that went down:
And Jonas' dad, Kevin Jonas Sr., also posted some sweet pics from the engagement party.
"What an amazing day of celebration for @nickjonas and @priyankachopra engagement and Indian culture," he captioned the post.
So cute! They all seem like they'll get along just great. And it's wonderful to see them merging their cultures together for the sake of their kids. Their kids, by the way, seem like they're head over heels for each other.
I mean, look at their engagement photo:
Everything about it screams love, passion, and total devotion. Right? These two seem like they work so well together. And I'm glad they do because they seem genuinely happy.
After the two stars began dating earlier this year, they reportedly got engaged on July 18, which was Chopra's 36th birthday. A source close to the couple confirmed the engagement to People, saying they were "so happy" together. At the time, People's insider revealed what we now know to be true: that their families are really, really happy for them.
"His friends and family have never seen him like this, and they're all really excited for him. He's definitely very serious about her," the source explained.
Clearly, Jonas and Chopra were made for each other, and now that they have their families' blessings, they can head right into marriage without any worries. I'm sure the wedding is going to be all kinds of amazing. Can't wait to see how it all turns out! Can I get an invite?