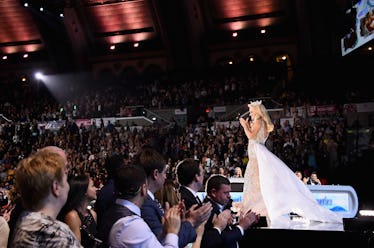 Miss Michigan Called Out The Flint Water Crisis In The Most Iconic Way Possible
Michael Loccisano/Getty Images Entertainment/Getty Images
Gone are the days where people expected Miss America contestants to just "stand there and look pretty." It's 2018, people, and these ladies are taking center stage to address some serious problems plaguing this country today. Don't believe me? Just watch this video of Miss Michigan calling out the Flint water crisis and try not to give her a standing ovation.
On Sunday, Sept. 9, the 2019 Miss America pageant took place in Atlantic City, NJ and spotlighted some seriously inspiring young women. While Miss New York, Nia Franklin, might have claimed the Miss America title, there was at least one other contestant that truly made an impact. Emily Sioma, also known as Miss Michigan, introduced herself by addressing the water crisis that's still haunting Flint, Michigan.
"From the state with 84 percent of the United States' fresh water but none for its residents to drink, I am Miss Michigan Emily Sioma," she declared.
Mic drop. Do you hear that? That's my exuberant cheering and fist pumping in the air.
Sioma's comment is enough proof that she's clearly a women interested in justice and social activism, but that's not all this contestant is passionate about. According to her biography on the Miss America website, Sioma graduated with a Bachelor's in Women's Studies at the University of Michigan, and her social impact initiative benefits "I Believe You," an organization that supports sexual violence survivors.
Miss Michigan, you may have not won the crown, but never doubt for a moment that you're a queen.
People loved it.
The Flint water crisis might not be making front page headlines anymore, but it's a serious problem. In December 2015, Flint Mayor Karen Weaver issued a state of emergency over the city's drinking water due to high lead levels, after the city switched its water system to the Flint River in April 2014. In September 2015, researchers found that the number of children with high levels of lead in their blood had nearly doubled since the switch. High levels of lead exposure can lead to nonreversible effects on children, including cognitive and behavioral issues. Once these reports surfaced, the Michigan Legislature approved $28 million to help the Flint water crisis on in January 2016. However, officials have since come under criticism for ending aid too early. In April 2018, Michigan Gov. Rick Snyder announced that the state would stop providing free bottled water to Flint residents, despite the fact that at the time there were still reportedly 12,000 homes still waiting to have lead-contaminated pipes replaced, according to ABC 12. Snyder said in a public statement at the time,
Since Flint's water is now well within the standards set by the federal government, we will now focus even more of our efforts on continuing with the health, education and economic development assistance needed to help move Flint forward.
Sioma addressing the water crisis in her home state is truly a nod towards the change happening within the Miss America pageant. In June, executives announced that they plan to drop the swimsuit portion from the televised pageant. Even better, Gretchen Carlson, the chairwoman of Miss America, told Good Morning America on June 5 that contestants could wear "whatever they choose" during the evening gown portion of the night. I don't know about y'all, but I'm definitely here for strong women rocking power suits while standing up for social justice issues on television.
Sioma speaking out to address the Flint water crisis during the Miss America pageant is an example of how everyone needs to stand up and speak out on their beliefs. No matter the platform, your voice matters.