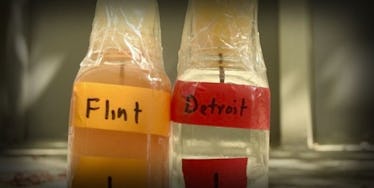 Michigan Legislature Will Give $28 Million To Flint To Aid Water Crisis
On Thursday, the Michigan Legislature unanimously approved $28 million to be appropriated for various services in Flint, Michigan, Detroit Free Press reports.
The bill will now go to Michigan Governor Rick Snyder. In response to this development, the governor tweeted:
BREAKING: $28 million in immediate supplemental funds for Flint approved by Legislature --> https://t.co/c7kVYMJcPz pic.twitter.com/9dMMPwyv3O — Governor Rick Snyder (@onetoughnerd) January 28, 2016
Senator Jim Ananich, D-Flint, reportedly said,
We have to assume that it's a population-wide problem and that every single person who was ingesting this water has some form of lead in their system. We have to make sure we hold the administration accountable, and that they listen to experts so services like mobile food banks and Early On assessments are available.
The money will be used for everything from helping with unpaid utility bills and medical services to replacing plumbing fixtures in schools, nursing homes and foster homes.
Flint has been suffering from the devastating consequences of contaminated water, a product of the city's decision to switch its water supply from Detroit to the Flint River in an effort to cut costs back in 2014.
As a result, thousands of residents -- including children -- were exposed to lead-laced water, which is completely undrinkable and very damaging to people's health.
The World Health Organization says,
The neurological and behavioural effects of lead are believed to be irreversible.
The situation in Flint is so dire a state of emergency was declared by both the state and federal government.
Many blame what's happening in Flint on the inaction of the government, and there's pressure on Governor Snyder to resign.
Citations: Senate, House unanimously approve $28M for Flint (Detroit Free Press), Lead poisoning and health (World Health Organization), President Obama Signs Michigan Emergency Declaration (The White House), Sanders: Michigan Governor Must Resign over Flint Lead-Poisoning Crisis (Bernie Sanders)