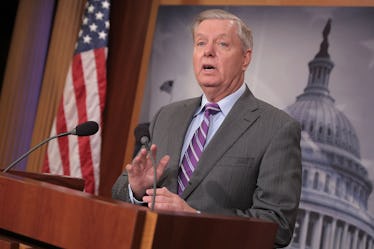 This Old Video Of A Senator Explaining Bill Clinton's Impeachment Is So Relevant Now
Chip Somodevilla/Getty Images News/Getty Images
Thanks to the Internet it's easy enough to dredge up someone's past — or for instance, a video of a senator making claims about one president that he could later be asked to apply to another. This video of Senator Lindsey Graham (R-SC) talking about impeachment in 1999 is going viral — and for very good reason. Sorry, Graham.
President Donald Trump has found himself in a bit of a situation following the admission of guilt by his former lawyer Michael Cohen on Tuesday, Aug. 21. Cohen pleaded guilty to eight counts of fraud — including a claim that at the direction of Trump, he paid hush money to Stormy Daniels and Karen McDougal, two women who claim they had affairs with Trump (which Trump denies). Elite Daily reached out to the White House for comment on Cohen's claims, but did not hear back. On top of that, also on Aug. 21, Trump's former campaign chairman Paul Manafort was found guilty on eight charges of fraud, tax evasion, and hidden foreign accounts. In the aftermath of two of his close associates being found guilty of crimes, plus the allegations that the president was involved, a lot of people are beginning to wonder about impeachment. So, what does this have to do with a two-decade old video of Graham? Well, the content of the video is pretty relevant to our Trump situation.
Graham was serving in the House of Representatives when President Bill Clinton was impeached in late 1998 for perjury and obstruction of justice in the case surrounding his affair with Monica Lewinsky. On Aug. 21, following Cohen's plea and Manafort's guilty verdicts, MSNBC's Lawrence O'Donnell posted a clip of Graham talking about impeachment back in 1999 at Clinton's hearing. In the video, Graham said,
Impeachment is not about punishment. Impeachment is about cleansing the office. Impeachment is about restoring honor and integrity to the office.
Graham also said that impeachment isn't about being convicted of a crime, but rather, if an official's conduct is "out of bounds." He said,
You don't have to be convicted of a crime to lose your job in this Constitutional Republic if this body determines that your conduct as a public official is clearly out of bounds.
A lot of people on Twitter were ready to remind Graham of what he said almost 20 years ago, and ask him if he still meant it.
So, what does Graham think of Trump's "conduct as a public official" now? So far, Graham's response to the legal drama surrounding the Trump presidency could be boiled down to "let the law work it out." In a tweet sent out on Aug. 21, Graham merely said that there have been no "charges or convictions" in regards to potential collusion between the Trump campaign and Russia. He wrote,
Thus far, there have yet to be any charges or convictions for colluding with the Russian government by any member of the Trump campaign in the 2016 election.
True there's no specific convictions regarding Russian collusion and Trump's 2016 campaign, but if we're going according to Graham's 1999 claims, then convictions aren't needed. In federal court on Aug. 21, Cohen explicitly stated in his plea that it was Trump who told him to pay off McDougal and Daniels, according to a statement given to Elite Daily by Davis. It read:
Michael Cohen took this step today so that his family can move on to the next chapter. This is Michael fulfilling his promise made on July 2ndto put his family and country first and tell the truth about Donald Trump. Today he stood up and testified under oath that Donald Trump directed him to commit a crime by making payments to two women for the principal purpose of influencing an election. If those payments were a crime for Michael Cohen, then why wouldn't they be a crime for Donald Trump?
It would seem to me then that Graham would have to apply the same guidelines for impeachment to Trump that he did for Clinton back then. We'll see if that ends up being the case.