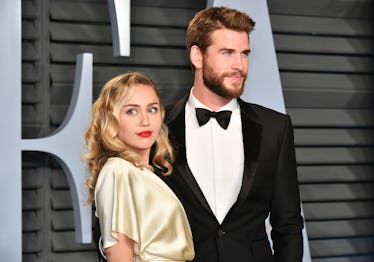 Liam Hemsworth's Latest Instagram Prank On Miley Cyrus Will Fill Your Heart With Joy
Dia Dipasupil/Getty Images Entertainment/Getty Images
Liam Hemsworth and Miley Cyrus have been together for a really long time. And that means that they both know each other inside out; they know each other's likes, dislikes, pet peeves, and all kinds of intimate details. But that's not to say there isn't still some room for a few surprises. Pranks, for example. This video of Liam Hemsworth pranking Miley Cyrus shows just how much those two are meant for each other.
Hemsworth took to his Instagram account on Wednesday, Aug. 29, to post a video he recorded while driving with Cyrus. In the video, Hemsworth has his face obscured by a mask and drives while Cyrus sits calmly in the passenger seat.
Throughout the video you can hear them chit chatting about deer and about how Hemsworth's face is covered up. Then, all of a sudden, Hemsworth pretends to brake and gives Cyrus a bit of a scare. At the end, you can see a slight irritation on Cyrus' face, but it's all in good fun.
"Gets her every time 😂" Hemsworth captioned the video.
Hemsworth pranking Cyrus isn't new. He's done it a bunch of other times before and he's right, it truly does get her every time.
Here's the video Hemsworth posted to Instagram:
Funny, right? And it just proves he knows what grinds her gears. Well, he should by now since he and Cyrus have been together for almost a decade.
Yep, a decade already! The famous couple met when they were filming a movie called The Last Song back in 2009. They fell for each other right away and have pretty much held strong on their relationship. Although they experienced some ups and downs in 2010 and again in 2012, they finally recommitted to each other in 2016. They've been inseparable ever since.
And that's a good thing because how else would the world get hilarious videos like the one Hemsworth posted to Instagram? It would be a total loss to everyone.
Even though Hemsworth and Cyrus have been serious about each other all these years, there hasn't been much talk about a wedding. They don't seem to be influenced by people like by the quick engagements of people like Ariana Grande and Justin Bieber... and for good reason: They're doing things their own way!
In early August 2018, TMZ reported that Hemsworth and Cyrus are not in a rush to get married. Apparently, being engaged is more than enough for them. A TMZ insider source reportedly said that for Hemsworth and Cyrus, "the formality of marriage isn't important. What they view as important are ... they love each other, they're happy and enjoy each other's company."
So, it sounds like they'll be engaged indefinitely. That's OK, though, because they seem super content to just be with each other and that's what's important, anyway. Right? Of course! As long as love and emotional health are priorities, then marriage doesn't need to be on the table right away. Glad to see they're going at their own pace and doing what feels right for them!