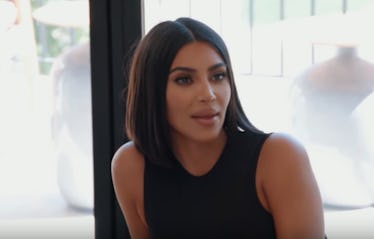 Move Over Kourtney, Kim Is Coming For Kendall's Work Ethic Now, Too
YOUTUBE
Season 18 of Keeping Up With The Kardashians hasn't even premiered yet, but I'm already shook. For weeks, the family has been teasing Kim and Kourtney Kardashian would get into a blowout fight during the show's season premiere episode, but now it seems fans could see more than one altercation take place, as Kim and Kendall Jenner haven't been seeing eye to eye either. The video of Kim Kardashian questioning Kendall Jenner's work ethic is so intense and leaves fans wondering what will happen next.
A new KUWTK teaser shows Kim, Kourtney, Khloé, and Kendall at home discussing Kylie Jenner missing out on her Paris Fashion Week show due to feeling sick. While none of the other sisters appeared to have a problem with it, Kim couldn't help but comment how she wouldn't miss an appearance no matter what. "If I were on my death bed, I would still show up," Kim said, adding that their mom, Kris Jenner, is used to her and Khloé sticking to their schedules.
"And me," Kendall said, clearly annoyed Kim left her name out. "No, you get anxiety and it's hard," Kim replied, and that's when the drama began because her comment didn't sit well with Kendall at all.
"Are you f*cking kidding me? I literally will come at you right now. I swear to god," Kendall snapped. "I've been sick as f*ck [and] been having major panic attacks. I work my f*cking ass off when I'm sick or not."
Kim reiterated her and Khloé stay committed to making appearances, and then turned to Kourtney to imply she doesn't "care about stuff."
Things went downhill from there because then Kourtney joined in on the drama. "You act like I don't do sh*t! I will literally f*ck you up if you mention it again," Kourtney told Kim. "Honestly, change the narrative in your mind. I work my f*cking ass off."
Watch the sisters argue in the clip below.
To see how the sisters resolve their issues, watch KUWTK when it returns on Thursday, March 26, at 8 p.m. on E!