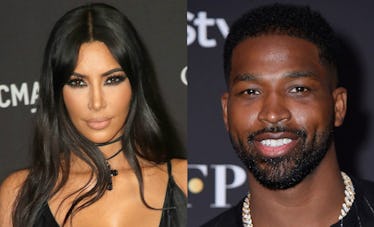 This Video Of The Moment Kim K Made Peace With Tristan Thompson Is Awkward AF
David Livingston/Michael Loccisano/Getty Images
Kim Kardashian and Tristan Thompson are on good terms now, but oh boy, did she hate him for a while. In the newest episode of Keeping Up With The Kardashians on Nov. 25, the tension between Kardashian and Thompson had never been higher, and it made an awkward situation for Khloé. Knowing this, Kim K decided it was better to make peace and let Khloé and Thompson figure out their problems on their own. And the video of Kim Kardashian making peace with Tristan Thompson is awkward as hell, but a nice move forward.
The episode hit the ground running with the Kardashian and Thompson drama in the first scene. Kim and Kourtney are hanging out when they do some social media digging to see if Thompson had unfollowed all of them on social media. Low and behold, Thompson had fully blocked Kim on the 'gram.
"He blocked me!" Kim said in shock, clearly not pleased. Then she called Khloé to complain about it, and Khloé sounded like she was over it before she even answered her phone.
Life went on as usual throughout the rest of the episode (viewers got to see Kardashian and her high school friends meet Cher and see the behind-the-scenes meetings that resulted in Kourtney Kardashian's lobbying in front of Congress), but it always came back to the main plot point, which was Kardashian and Thompson's continued feud.
The tension was truly awkward. While it's understandable that Kim felt the need to defend Khloé and had a lot of anger over Thompson cheating on her just days before their daughter was born, no one else in the family but Kim was harping on it anymore. They all were respecting Khloé's decision to try and work things out with True's dad and were giving her the space to do so, so Kim consistently being openly bitter about Tristan only made Khloé feel uncomfortable.
After not being invited to Taco Tuesday at Khloé's house and having a good talk with Scott, Kim decided to stop continuing a fight no one else was fighting.
"I realized, why am I fighting this fight if no one else is?" Kim explained in a solo interview during the episode. "I'm not going to spend my time being angry at someone else for something that they didn't do to me. I'm gonna move on. And if that's what Khloé chooses to do, I'm gonna be supportive of her."
In one of the last scenes in the episode, Kim, Khloé, and Kourtney are all in Khloé's kitchen when Kim asks where Thompson is. "He's in the theater," Khloé says, visibly worried about what Kim might do next. She gets up and decides to go talk to him. "Where's my bestie?" she jokes, making everyone anxious AF.
"With Kim going to see Tristan," Khloé said in a solo shot, "obviously my heart is racing. I have a ton of anxiety. I don't want them fighting in the house." Then, Kim walks into Khloé's home theater where Thompson is lounging, and... asks Thompson is he's ever played pickleball?
"I have no idea how to even start a conversation with Tristan," Kim says in a solo shot, "and pickleball was the first thing that popped into my head. It was super awkward, but he's an athlete so I thought maybe talking about sports would be common ground." Thompson looked really apprehensive throughout the whole conversation, probably wondering if she was going to yell at him/bring up his infidelity like all of us thought she would. But she kept it civil the whole time and just talked about winter sports.
"My relationship with Tristan is a work in progress," she said. "But it is just really important to move forward. We're such a close family, we're one big family, and you just have to move on and get over it."
Pickleball: Mending Kardashian family feuds since 2018.