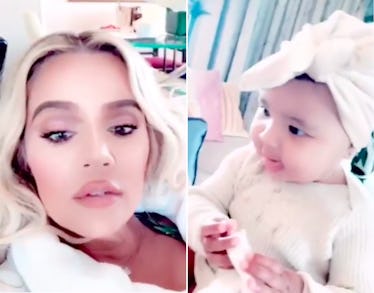 Khloé K Singing "I Love You" From 'Barney' To True Is The Most Precious Moment Ever
Instagram
Raise your hand if happy babies make you smile. Raise your hand if anything Kardashian-related makes you smile. What about a happy baby and a Kardashian, all rolled into one precious video? Oh yes, fam, it's a thing, and you will weep with joy when you see this adorable video of Khloé Kardashian singing "I Love You" to True. It's so cute, in fact, that you'll almost forget that the song was once sung by a very large and very purple dinosaur.
So here's what went down. The 34-year-old Keeping Up with the Kardashians star took to her Instagram Story on Thursday, Nov. 15, to post what might possibly be the cutest video I've ever seen in my entire life. We see Khloé singing to her 7-month-old daughter, True, who's looking so sweet in a little onesie and a lil' baby head wrap. We see Khloé looking like pure fire in a white robe, singing the "I Love You" song from Barney.
We hear her sing, "I love you. You love me. We're the cutest family. With a great big hug and a kiss from to you," and even though the lyrics are technically, "We're a happy family," I'm still going to say that this is pretty much the best video ever:
Let's just take a look at some of my favorite parts of the video in still form.
First, let's talk about how flipping cute True looks while staring adoringly at her mama:
And let's just see how gorgeous Khloé looks while singing her heart out:
And let's just look at True one more time, happily nibbling her blanket while listening to her mom sing:
Name something more precious. I'll wait.
Not included in the adorable video was Tristan Thompson, True's father who cheated on Khloè just before she gave birth. All of the ~drama~ has been somewhat stirred up once more since KUWTK's current episodes are smack in the middle of the time period where the cheating scandal first came to light.
On Sunday, Nov. 4, Khloé sent out a series of tweets opening up about how it feels to watch the episode where her family finds out that Tristan Thompson cheated on her back in April 2018. Per reports from The Daily Mail and TMZ, surveillance footage captured Thompson kissing another woman and kissing two other women at a hookah lounge on a separate occasion. Elite Daily previously reached out to Kardashian and Thompson's teams for comment on the scandal but did not hear back by the time of publication.
Khloé's tweet read,
Tonight's episode is an uncomfortable and super emotional one for me, but when we signed up for this show over a decade ago, we signed up for a reality show, which meant showing you guys inside our lives, the good, the bad and the ugly.
Elite Daily reached out to Khloé's team for further comment on her Sunday afternoon tweets, but did not hear back at the time of publication.
No matter what kind of drama is going on, we know that Khloé is over-the-moon being a mother to True, and it's super exciting to watch the pair of them grow. Snaps for Khloé all the way.