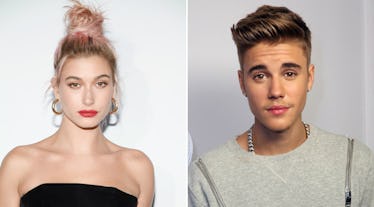 A Video Of Justin Bieber & Hailey Baldwin First Meeting In 2009 Surfaced & It's Awkward AF
Pascal Le Segretain & Ari Perilstein/Getty Images Entertainment/Getty Images
Does anybody else feel like they're dating Justin Bieber and Hailey Baldwin, or is it just me? Ever since these two young celebs rekindled their romance I've become as invested as I was in Season 4 of Breaking Bad, which is pretty freaking invested. Now that they're reportedly engaged, I'm losing my damn mind. I've spent my evenings and weekends researching the origin of their relationship and luckily the internet did not disappoint. There's a video of Justin Bieber meeting Hailey Baldwin for the first time and it's awkward, adorable, and oh-so-good for my obsessed soul. Elite Daily reached out to both Baldwin and Bieber's team for comment on their reported engagement but did not hear back by the time of publication.
So picture this, the year is 2009. Justin Bieber has yet to change his signature swoopy bangs and somewhere I'm heavily panting to the song "One Less Lonely Girl." Baldwin and the Biebs are just a pair of awkward (albeit stunning) teenagers who don't know what to do with their hands, but luckily, Stephen Baldwin is there to facilitate. Baldwin and her dad were lucky enough to meet Justin somewhere (it's hard to tell where from the video, but my guess is before or after a Biebs performance) and the magical moment was caught on camera. Sure, Stephen does all the talking and Hailey just plays it cool and kind of stands there with her arms crossed, but her famous father is sure to introduce her. (Thanks, Dad.)
In the video, you can hear Stephen explain, "This is my daughter, Hailey. We've been enjoying your music." Hailey barely smiles but does get out a "nice to meet you" as Bieber politely smiles back and nods. Take a look:
What youth! What innocence! Bravo, everyone!
Today, they've worked past the clunky body language and have full-on graduated to making out in public. Nine years after their first awkward encounter, Baldwin and Bieber now enjoy their time together strolling the streets of New York City and reportedly getting engaged on a beach in the Bahamas.
According to reports, Bieber reportedly popped the question at a resort after asking other guests in attendance to put their phones away because "something special" was about to happen. Two eyewitnesses confirmed the proposal to TMZ. While Bieber and Baldwin have yet to confirm anything to their fans, Bieber's parents seem to be overly excited about something for their famous son.
Bieber's father, Jeremy Bieber, posted an idyllic picture of his son in front of a sunset on Instagram with the caption, "@justinbieber Proud is an understatement! Excited for the next chapter!"
His mother, Pattie, was also celebrating on Twitter by sharing the word "love" seven times in a row.
Sure, no one can confirm anything until Baldwin or Bieber tells them directly, but damn does it all look legit from here.
Of course, some fans are waiting to hear from Bieber's longterm on-again, off-again ex, Selena Gomez, and how she feels about the reported whirlwind engagement. Gomez and Bieber briefly rekindled their romance after her famous split with her boyfriend The Weeknd at the tail end of 2017. However, she and Bieber seemed to quickly fizzle out organically this time.
As recently as March 2018, one source was telling People magazine Bieber's feelings for Gomez aren't going anywhere. "He thinks and talks about Selena all the time. The chapter with her is definitely not finished," they said.
Well, if the engagement rumors between him and Baldwin are true, then yes — you so-called "insider" — yes, it is, finished.
Check out the entire Gen Why series and other videos on Facebook and the Bustle app across Apple TV, Roku, and Amazon Fire TV.