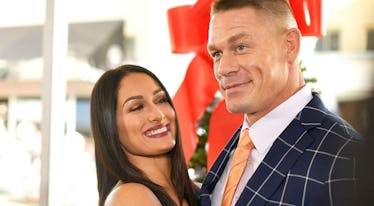 Nikki Bella Chose John Cena's Best Man Without Telling Him & His Reaction Will Crush You
Matt Winkelmeyer/Getty Images Entertainment/Getty Images
Are you still sad and a little confused about what's going on between John Cena and Nikki Bella? Because same. The couple devastated fans by announcing their separation on April 15 — weeks before their May 5 destination wedding in Mexico. But they've been putting fans in a glass case of emotion, because what seemed like a broken-off engagement turned into hopes for a reconciliation, and now, we're not really sure where they're at, and it's driving me bonkers. I just want them back together again, because they were so good together. And this video of John Cena's reaction to Nikki Bella choosing his best man is so heartbreaking, mainly because it proves how amazing the two are together.
In a joint statement provided exclusively to Us Weekly, Bella and Cena announced their split to their fans. It read,
While this decision was a difficult one, we continue to have a great deal of love and respect for one another. We ask that you respect our privacy during this time in our lives.
It was a tough thing for fans to digest, especially because the world has been closely following their wedding plans on Total Bellas. And in a clip from the show where Nikki Bella spills her secret to John Cena about accidentally choosing a best man for their wedding, it only makes their separation harder to accept, because of how understanding and empathetic they both are to the other.
While filming a confessional on the upcoming new episode of Total Bellas, Nikki Bella revealed that she spoke to John Cena's friend Rob and asked him to be Cena's best man... without getting her future husband's input.
"So obviously, I need to tell John what I've done. I need to tell him … okay, now saying it, I kind of feel silly," she said, alluding to what she's done without Cena's permission.
Oops?
In the video, Bella opens up to Cena about her mistake. "So, I may or may not have kind of jumped the gun and told Rob that he's your best man," she said. "I just assumed that if you were to have two best men, it would be Rob ... and then I started getting anxiety."
"So did you talk to them, or did you just assume in your head that it would be those two people?" Cena asked, looking less-than-pleased (and understandably so).
"I mean it's not like I gave him a gift and was like, 'Hey, it's official!' I just said, you know, 'Because you'll be John's best man,'" Bella replied.
Eesh. I'm not one to overreact, but if my significant other decided to choose my maid of honor for me, I'd be hella pissed. But Cena remained level-headed and calm (how???) and said, "That's pretty official to me, saying that they have the job. I just want you to know that."
Bella said that it felt like she "ruined Christmas" but Cena handled her confession like a damn saint. He said,
This is no time for us to argue. This is a big thing for us, so I'll just say what's happened so far. You took that choice away from me, and you took that meaning of me telling them ... I guess what I'm trying to say is, one, let me know if you're going to make a decision on my behalf, especially one that directly affects me. And two, for God's sake, be honest with me.
OK, this is probably the purest response I've ever heard, so CAN SOMEONE PLEASE TELL ME WHY THESE TWO ARE NOT TOGETHER ANYMORE?
Okay, I kind of get why Nikki called things off, what with her and Cena not seeing eye-to-eye on such a big issue like parenthood, but still. They seem so perfect and I'm just sitting here, like:
You can watch the whole video below, but I promise that it will just break your heart all over again knowing that these two are no longer an item:
Or are they even broken up anymore? They may have reconciled already, according to a report by People. Elite Daily reached out to both Bella and Cena's reps for comment on this new report, but has not heard back at the time of this publication. Basically, nothing is official and my heart really can't handle this.
So, John, Nikki — if you're reading this, please know that we will forever be rooting for you. I don't care who your best man is, I just want you to officially back together. Do it for the fans. And also because you love each other. But more so for the fans. OK? OK.