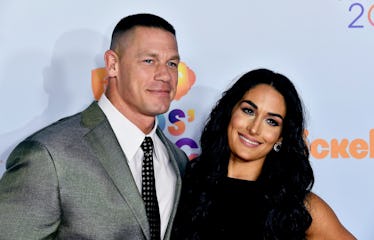 Nikki Bella & John Cena Are Apparently Already Back Together & TBH, I Saw This Coming
Frazer Harrison/Getty Images Entertainment/Getty Images
If you've been following the celebrity news cycle at all over the past month, you know very well that Nikki Bella and John Cena have split up their happy union. The two were slated to marry in Mexico in early May 2018, but they chose to part ways in early April 2018. But despite all of that, things are looking up for the two pro wrestlers, especially in matters of love. Yep, you guessed it! Nikki Bella and John Cena are back together, according to a new report, and their fans are rejoicing so much right now. Elite Daily reached out to both Bella and Cena's reps for comment on this new report, but has not heard back at the time of this publication.
People reports a source close to both Bella and Cena revealed that the couple really had to come to terms with their relationship when they canceled the wedding:
They both got a wake-up call once they canceled the wedding, and they both realized they could fix what was broken.
Luckily for Bella and Cena, their relationship issues weren't totally irreparable and the two have been trying to work things out, at least according to People's source. All in all, the source says, the wedding was called off because the couple still needed time to iron out some relationship details:
This was never really about ending their relationship — it was about calling off a wedding because something didn't feel right. It was a wedding that was entered into under false pretenses. She was pretending she was okay with not having a kid, he was pretending he absolutely couldn't and wouldn't budge on that point.
Another interesting tidbit that the source revealed was that Bella and Cena never really stopped talking once they announced their split:
They never stopped talking. Other than the actual wedding weekend, when they took some space, they have been talking.
This isn't terribly surprising. They were together for so long that it seems unlikely that they'd cut contact altogether.
In addition to revealing that Bella and Cena have been communicating, People's source also explained that the couple have been having heart-to-hearts:
He has poured his heart out to her, and she was more than ready to take him back once she heard what she needed to hear. He's been saying and doing all the right things.
Whatever's going on behind the scenes, Bella and Cena clearly still care deeply for each other. They were actually spotted out together this past Saturday, May 19, which was the first time they were seen together since their split in early April.
Bella and Cena announced their split via a joint statement that was released exclusively to Us Weekly on April 15. It read:
While this decision was a difficult one, we continue to have a great deal of love and respect for one another. We ask that you respect our privacy during this time in our lives.
In the weeks leading up to the split, Bella had gone on a nine-day Bachelorette celebration, while Cena was chatting to Us Weekly about the struggles of maintaining a relationship:
Relationships are hard. Don't ever think that love is easy. Love is beautiful, but we've had to come to the realization after being together for five years that love is not easy. We work every day on us. We have our problems just like everybody else. Some of our problems are very public, some of them aren't. But we work every day on us. Anytime I get upset, I always just realize that I can't live without her and I love her and that's why I cave in on a lot of stuff.
It seems like Bella and Cena are genuinely in love with one another and completely committed to patching things up. Hopefully they can!