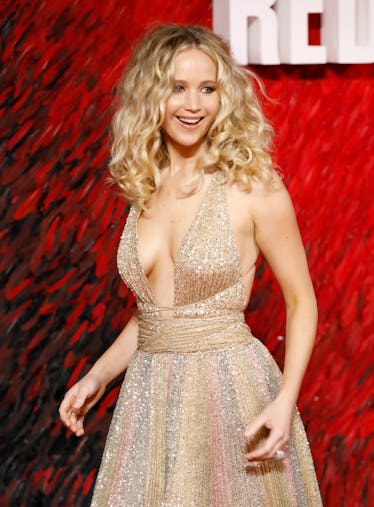 J. Law Told Ellen All Of Her Drunk Stories & They'll Make You Love Her Even More
Tristan Fewings/Getty Images Entertainment/Getty Images
Could there be a more relatable celebrity than Jennifer Lawrence? She's down-to-earth, she's funny as anything, and apparently, she's one hell of a drinking buddy. So basically, she's pretty much someone that most women dream to be best friends with, because you just know that a night out with J. Law would be the highlight of your entire life. While I sadly wasn't there during any of her drinking escapades, I was able to live vicariously through them with this video of Jennifer Lawrence telling drunk stories on The Ellen DeGeneres Show, and my God, I don't think I've ever appreciated a celebrity's candor more than hers.
So here's the scoop: Lawrence made an appearance on Ellen on Friday, March 2, to promote her new movie, Red Sparrow (which I can't freaking wait to see, BTW). And, in true J. Law form, we got so much more than just a movie promo.
She was talking to Ellen about her alter ego, aptly named "Gail," who only comes out when she starts drinking rum. Naturally, Ellen was prepared, and had a variety of rum cocktails to choose from as she's interviewing her.
When asked to describe her alter ego, Lawrence starts out by saying, "Gail's lovely... she's got a heart of gold," but then, the clouds part and the heavens open up, and a photo of "normal" Jennifer Lawrence appears side-by-side with rum-drinking "Gail" on the big screen:
J. LAW SLASH GAIL, I BOW DOWN TO YOUR AMAZINGNESS.
Hysterical, Lawrence tries to describe the photo on the right, aka "Gail":
I was trying to look cute, like, getting photographed will all my girlfriends on the beach. Like, I wanted to look cute. And look... I mean, I can't even repeat it, my whole face is just crooked!
Hey, if you ask me, that photo is a million times better than any drunk beach photo I've ever taken, so give credit where credit is due.
So, what distinguishes Jennifer Lawrence from "Gail"? Apparently, a lot of rum, which transfers into a lot of bravery. Lawrence describes what happened after that beach photo was taken:
From there, we went conch diving. We pull up the conch, and the guy driving our boat goes, "Look, they all have little worms!" I took it [the worm] out of his hand and swallowed it, and then pulled the worms out of all the conchs and swallowed all of the worms.
GAIL, WHY?
She also talks about how, after she ate all those worms, she proceeded to dive into shark-infested waters, saying that when "Gail" comes out after drinking rum, she turns "masculine" and becomes an "adrenaline junkie," and honestly, I think we ALL have a drink that makes us become someone entirely different (shout out to my good friend, tequila).
If you're thinking, wow, J. Law sure has some funny drinking stories, we're not even done yet. So sit tight, because there's more (rum) where that came from.
Ellen pulls up a photo of Jennifer on the red carpet premiere of Red Sparrow, asking, "What kind of drunk was this on the red carpet?" and J. Law's reaction is PRICELESS:
She basically spit out her Gail-inspired drink, but told Ellen that that wasn't "Gail," but rather "someone else" that she "just met the other night." This photo was a result of drinking a lot of wine when she visited Andy Cohen and the Real Housewives, then taking shots of rum when she met with Stephen Colbert — all before having to go to a red carpet event for Red Sparrow.
Lawrence explains that by the time she reached the event, she was "hammered," and the reason she looks so... different... in photos is because she was concentrating on trying to look sober. The outcome, of course, was this:
Still a better photo than I've ever taken in my life, so that's two for two.
You can watch the entire interview on Ellen below, but I'm warning you, it will only make you want to be drinking buddies with Jennifer Lawrence even more than you already do:
Jen, if you EVER need someone to go for a night out on the town with, you can hit me up. You are literally my number one.
Cheers to you, girl.