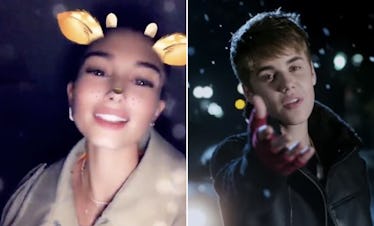 Hailey Baldwin Singing Justin Bieber's "Mistletoe" Will Put You In The Holiday Spirit
Instagram/Hailey Baldwin & YouTube
Three things get me in the holiday spirit — cold weather, hot chocolate, and baby Justin Bieber singing Christmas tunes. While I'll argue his "All I Want For Christmas Is You" collaboration with Mariah Carey is maybe the best thing to happen to the holiday since Dr. Seuss wrote How The Grinch Stole Christmas, his new Christmas classic "Mistletoe" is pretty good, too. Apparently, his wife agrees. The video of Hailey Baldwin singing Justin Bieber's "Mistletoe" is filling me up with some sort of weird celebrity Christmas-induced joy, and I can't be the only one.
Fans have been watching from the wings as Hailey Baldwin and Justin Bieber navigate the beginning phases of marriage. They shocked folks everywhere when they got engaged in early July 2018 after being together for only a few weeks. While fans waited for wedding info, the two casually popped by a New York courthouse on the afternoon of Sept. 13 where they reportedly made it official. Then, Bieber confirmed the good news when he called Baldwin his "wife" in an Instagram post on Nov. 15. Today, fans are still crossing their fingers for a full-blown wedding or party, but are also slowly settling into the reality that these two are the real deal. (And, oh yeah, Hailey changed her named on Instagram from Hailey Baldwin to Hailey Bieber. NB-freaking-D.)
For some reason, knowing the 24-year-old music star and 21-year-old model are walking around as hubby and wifey makes the Christmas video tribute that much sweeter. Baldwin posted the gram on Monday, Nov. 19. It's unclear where she is, but it looks like she's rocking out to Bieber's 2011 hit in a car. Sure, she chose high AF voice filter along with the reindeer filter, but that's what makes it so festive you guys!
This is the lyric she chose to post: "Your lips on my lips, that's a very merry Christmas."
Fans also think Baldwin's Instagram video is a way for her to let Bieber know he's on her mind while they're apart. Bieber has been posting social media updates from his hometown in Stratford, Ontario, where he posted this adorable picture of his sweet nephew. Meanwhile, Baldwin has hinted that she's busy working and was in New York City as of Nov. 18 where she 'grammed some snowfall. However, it's totally possible the two newlyweds will link up in time for Thanksgiving Day.
In fact, being with Baldwin is basically the only thing on Bieber's mind. People reported mid-November that Bieber's taking a pretty intentional break from making music with Hailey's blessing. An insider told the publication, "It actually bugs him when people ask when he's going back to the studio or on tour... Justin is searching for his purpose right now."
The source added,
He's thinking, 'Hey, maybe it's not music. Maybe there are other things I should be doing.' So while he's figuring it out, the last thing he needs is people asking him when he's going back into the studio.
O...K...
Well, anyway. I hope he and Baldwin — I mean, he and Bieber (weird) have a very happy Thanksgiving and a "very merry Christmas," obviously!