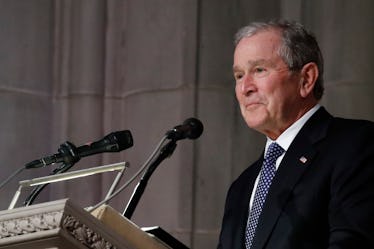 George W. Bush Broke Down During His Emotional Eulogy For His Father
Pool/Getty Images News/Getty Images
On Wednesday, Dec. 5, the nation bade farewell to President George H.W. Bush, who passed away at the age of 94 on Nov. 30. Mourners gathered to say their goodbyes at the National Cathedral in Washington D.C., where fellow politicians, close associates, and family members paid tribute to the late commander-in-chief, sharing personal stories, saluting his career accomplishments, and thanking him for his service. His son, President George W. Bush, was one of many who gave their respects, sharing an emotional about his father and his life. But before you watch this video of George W. Bush's eulogy for his father, you should maybe grab a tissue (or three).
Bush kicked off his speech by talking about his father's adventures, which he said lasted well into the later years of his life, from jumping out of an airplane at age 90 to engaging in water sports. He went on to highlight moments in his father's career, calling him a "patriot" and an "empathetic man ... who valued character over pedigree" and taught him to hold on to important values like faith and family. Although H.W. Bush was "always busy," he was "never too busy to share his life with others," his son said. As he continued on about his father, Bush started to choke up, with his voice quivering and eyes appearing to water at times. And then he broke down completely after calling him "the best father a son or daughter could have." Be advised: it's heartbreaking.
The speech marks the second time Bush has issued comments on his father since his passing last week. In his official statement on Dec. 1, he honored his dad with an emotional tribute shared to Instagram, in which he called him "a man of the highest character" and the best father anyone could dream of. He wrote:
Jeb, Neil, Marvin, Doro, and I are saddened to announce that after 94 remarkable years, our dear Dad has died. George H.W. Bush was a man of the highest character and the best dad a son or daughter could ask for. The entire Bush family is deeply grateful for 41's life and love, for the compassion of those who have cared and prayed for Dad, and for the condolences of our friends and fellow citizens.
He topped off the post with a photo that appears to show his father alongside his longtime wife, Barbara Bush, who passed away back in April from complications related to congestive heart disease and chronic obstructive pulmonary disease, according to The Houston Chronicle. She was 92.
H.W. Bush reportedly died in Houston, Texas on Nov. 30. While his cause of death wasn't immediately reported, and has yet to be revealed, he had serious health issues over the years. It was widely known that he had a form of Parkinson's disease, which left him dependent on a motorized scooter or a wheelchair for mobility — but that wasn't his only struggle. In 2015, he was hospitalized in Maine for breaking a bone in his neck, and in 2014, for shortness of breath. Despite the misfortunes, H.W. Bush issued a statement in 2018, following Barbara's death, saying to "cross the Bushes off your worry list."
Considering how close-knit the family appears to be, something tells me we should do the same with the Bush children. In due time, perhaps George W. Bush and his siblings will be just fine.
Rest well, President Bush.