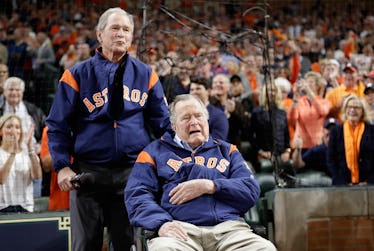 George Bush Shared A Touching Tribute To His Father Following George H.W. Bush's Death
Pool/Getty Images Sport/Getty Images
On Saturday, Dec. 1, George Bush shared an official statement about the passing of his father, George H.W. Bush, 41st President of the United States. George Bush's statement after George H.W. Bush's death honored him as the "best dad." The statement was shared the on his Instagram and the George W. Bush Presidential Center website.
According to The New York Times, George H.W. Bush died on Friday, Nov. 30 at his home in Houston, Texas. The former president was 94 years old and suffered from Parkinson's disease. In his official statement on Dec. 1, George H.W. Bush's son, President George Bush, the 43rd President of the United States, remembered his dad with compassionate words, calling him "a man of the highest character" and expressing gratitude to those who "cared and prayed" for his dad. He shared,
Jeb, Neil, Marvin, Doro, and I are saddened to announce that after 94 remarkable years, our dear Dad has died. George H.W. Bush was a man of the highest character and the best dad a son or daughter could ask for. The entire Bush family is deeply grateful for 41's life and love, for the compassion of those who have cared and prayed for Dad, and for the condolences of our friends and fellow citizens.
George H.W. Bush was a one-term Republican president from 1989 to 1993. Before serving in the highest office, The New York Times notes he had been a congressman from Texas, ambassador to the United Nations, chairman of the Republican National Committee, and a former Navy pilot. His time in the Oval Office coincided with the Cold War and the collapse of the Soviet Union.
Bush isn't the only family member to comment on his dad's passing. Jeb Bush, 43rd Governor of Florida also took to Twitter to remember his dad:
He wrote, "I already miss the greatest human being that I will ever know. Love you Dad!"
Many current and former politicians also reacted on Twitter, remembering the former President's lifelong service, celebrating his legacy, and offering the Bush family condolences.
President Donald Trump and First Lady Melania Trump also released a multi-paragraph statement reacting to his death and sending prayers to the Bush family.
George H.W. Bush had been facing health problems for several months. After his wife Barbara Bush died in April 2018, he was hospitalized with an infection that had spread to his blood, per USA Today. Later in May, he was readmitted for low blood pressure and fatigue, according to People. He talked about his Parkinson's during an interview with Parade magazine in 2012, saying, "It just affects the legs. It's not painful. You tell your legs to move and they don't move. It's strange, but if you have to have some bad-sounding disease, this is a good one to get."
In a statement, White House press secretary Sarah Huckabee Sanders said Wednesday, Dec. 5 will be designated as a National Day of Mourning. She added, "A state funeral is being arranged with all of the accompanying support and honors."
According to Politico, the funeral will take place at the National Cathedral.