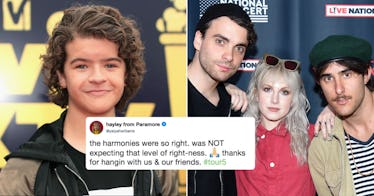 Dustin From 'Stranger Things' Singing "Misery Business" With Paramore Is Life-Changing
Christopher Polk/Getty Images; Michael Loccisano/Getty Images
If you're a fan of Stranger Things, then you know that Gaten Matarazzo (who plays Dustin on the show) is an incredible actor for his age. But did you also know that he's a fantastic singer and stage performer as well? Yup, an Instagram video of Gaten Matarazzo singing "Misery Business" with Paramore more than proves that.
The video was posted to Matarazzo's Instagram account on Tuesday, June 26, and fans immediately flocked to the comments to express their sheer delight at the performance.
In the post, Matarazzo thanked Paramore for letting him and his band, Work In Progress, play alongside them:
Thanks so much @paramore for having @sabrinaclaire @carmen_matarazzo and I sing with you on #mizbiz !!! That was sick!! (Also thanks for the @work_in_progress_band shoutout 😎) You put on such a great show!! Can't wait to see you again!
Matarazzo and the rest of his crew took to the stage at the Barclays Center in Brooklyn where Paramore was playing.
In the video, Matarazzo, his brother Carmen, and his sister Sabrina can be seen jumping around on stage as Paramore plays "Misery Business." Then, about halfway through the video, the young siblings and their Work in Progress bandmates start giving a full-fledged performance of the song.
Here's a look at the incredible performance:
As a whole, the performance was basically two awesome bands coming together to give fans what they want: raw talent and entertainment. And the fans ate it up!
"This was the cherry on top of what was already a fantastic night," one fan wrote in the comments of Matarazzo's post.
Another fan was loving Matarazzo's head-banging performance: "you should join them for the rest of the tour as their backup head banger," they said.
Other fans were in complete awe of seeing both Paramore and Matarazzo at the same event. Like this fan:
OMGGG I STILL CANT BELIEVE I WAS THERE AND SAW YOU @gatenm123 It was such an amazing experience seeing you sing mizbiz with @paramore ❤️❤️❤️ ILYSFM
Here's the performance from another angle, straight from the Barclays Center's Twitter account:
Even Paramore's lead Hayley Williams was incredibly impressed with what the young musicians had to offer on stage. She took to Twitter to say how she felt:
the harmonies were so right. was NOT expecting that level of right-ness. 🙏🏼 thanks for hangin with us & our friends. #tour5
The collaboration between Paramore and Work In Progress has long been in the making. According to Billboard, Williams of Paramore saw Work In Progress cover "Misery Business" all the way back in January and basically invited the band to play with them.
Check Work In Progress performing the iconic track by themselves back in December 2017 below:
Now that Work In Progress and Paramore have finally linked up, I wonder if there will be more collaborations in the future. One thing's for sure: that Matarazzo kid can sing like the best of them.
That Matarazzo is a talented singer should really come as no surprise. He has showcased his vocal talent for audiences numerous times, so Stranger Things fans are definitely aware of his skills.
For example, he and his sister totally killed it while singing the National Anthem at a New York Mets Game back in 2016.
Seriously, listen to them give it their all:
Plus, he and his Stranger Things castmates gave a really fun performance at the Emmys pre-show in 2016.
Here's a video to refresh your memory. It was super cute!
Matarazzo is clearly a talented kid. He's a great actor, a great singer, and just a fun personality all-around. It's going to be really interesting to watch him grow up and see how he explores all his various talents.